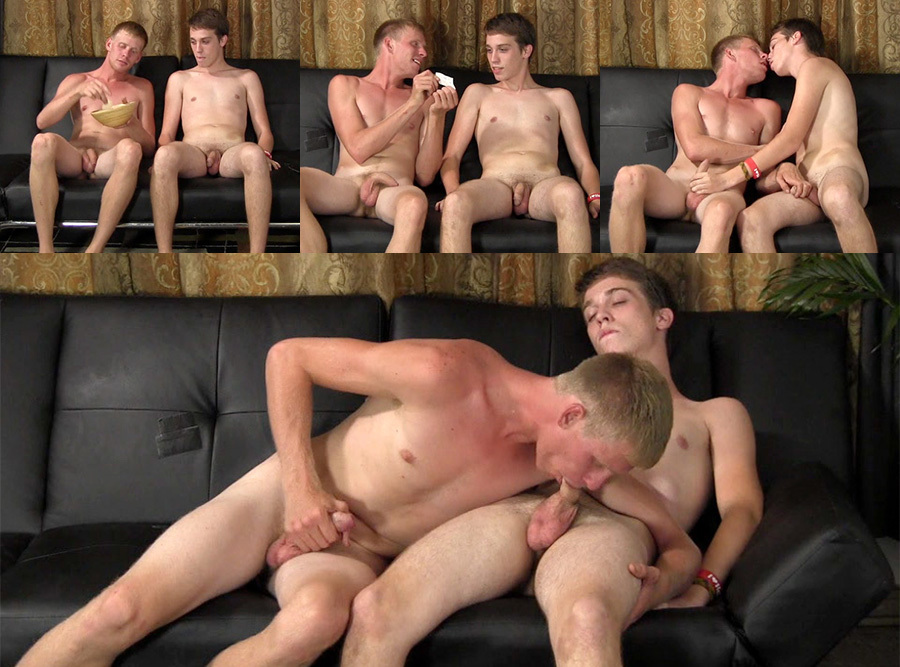 Here's a game you might want to play with your boyfriend, a gang of your gay friends, or maybe even a straight buddy you've been trying to get into bed. Bowl of Tricks is a game the producer of Straight Fraternity created to get the mostly straight guys exploring different kinds of sexual activities. One at a time, the guys pull a slip from the bowl and they have to do the activity written on the slip. So Jason's first tag tells him to slap Tristan's face with his cock. When the guys pull a slip telling them to give each other cum facials, do you think they do it? Come inside and find out.
Now, Jason and Tristan are paid to be on Straight Fraternity, and while it's no less weird for these first-timers to do some of these activities, they do have the financial incentive to follow through. So playing Bowl of Tricks with your straight buddy might require some jigging the rules or maybe you'll have sweeten the incentive to convince him to play. I've got plenty of straight buddies who would probably be okay if I pulled "suck your friend's cock" or "eat your friend's hole," but in the absence of a modelling fee, those buddies might not be so eager to reciprocate. Who knows, maybe they would.
Jason and Tristan have to do all kinds of things: they kiss and blow each other, Jason has to spank Tristan with a paddle and Tristan has to swat Jason's ass with his bare hand, and Jason has to suck Tristan's toes. Getting towards the end of the video, Jason pulls a slip saying that he has to cream Tristan's face, so Tristan leans over and sucks his buddy's cock. When Jason is close to spunking he stretches his neck so he can see his cock jizzing his buddy's face. When he's done cumming he makes a face and laughs. But Tristan has the last laugh because Jason pulls the same slip from the bowl and now it's his turn.
See more at Straight Fraternity