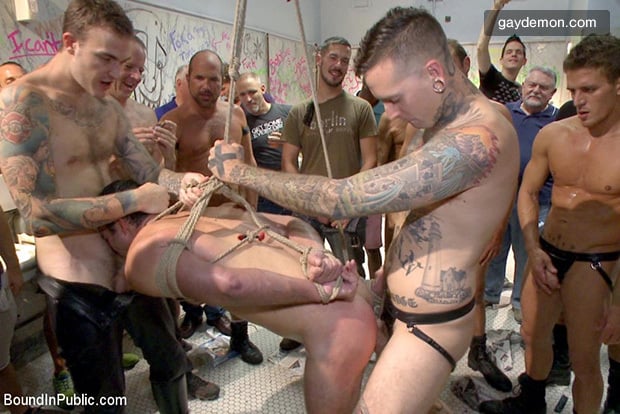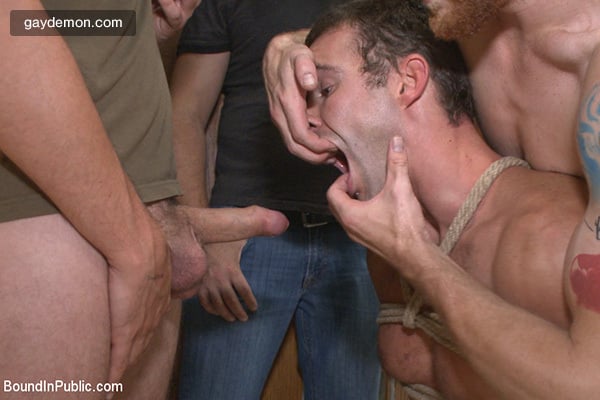 Kink.com announced on Friday that it will no longer be producing new scenes for BDSM sites Bound in Public and Public Disgrace. Both sites feature men (Bound in Public) and women (Public Disgrace) restrained, stripped, and punished in public settings. "While they were very popular," says company found Peter Acworth, "We have decided to move away from some of our more extreme products. This entails ceasing to shoot Public Disgrace and Bound in Public and rebranding Hardcore Gang Bangs as Fantasy Gang Bangs."
Over the past year, Kink.com has started moving beyond traditional porn formats and expanded into live events in an attempt to appeal to a broader audience. "We've seen tremendous growth in our workshops and educational elements, as well as our bar, and thought that it was time for us to refocus our priorities."
To many, Kink.com's other sites -- Bound Gods and Men on Edge -- are every bit as extreme, so why are Bound in Public and Public Disgrace being singled out? Both sites us extras and audience members who participate in the scenes and Kink.com feels the content could confuse some viewers unfamiliar with the BDSM community's mantra of safe, sane and consensual play.
"While these products were highly structured behind the scenes," Ackworth explains, "We felt they did not always convey the negotiated and consensual nature of BDSM as it is actually safely practiced in the real world."
Ackworth explains that the book "50 Shades of Grey" has brought the fetish and kink lifestyle into the mainstream and the company sees an opportunity to serve a wide customer base. "We are aiming for Kink.com to become a lifestyle brand," Ackworths says. "We're looking to grow in ways that return to our original mission -- demystifying and celebrating alternative sexualities -- and so we're shifting our energies to things like Kink University, enhancing the social aspects of our websites, events in our community center, and adding the ability to buy kink-branded BDSM gear on our sites.