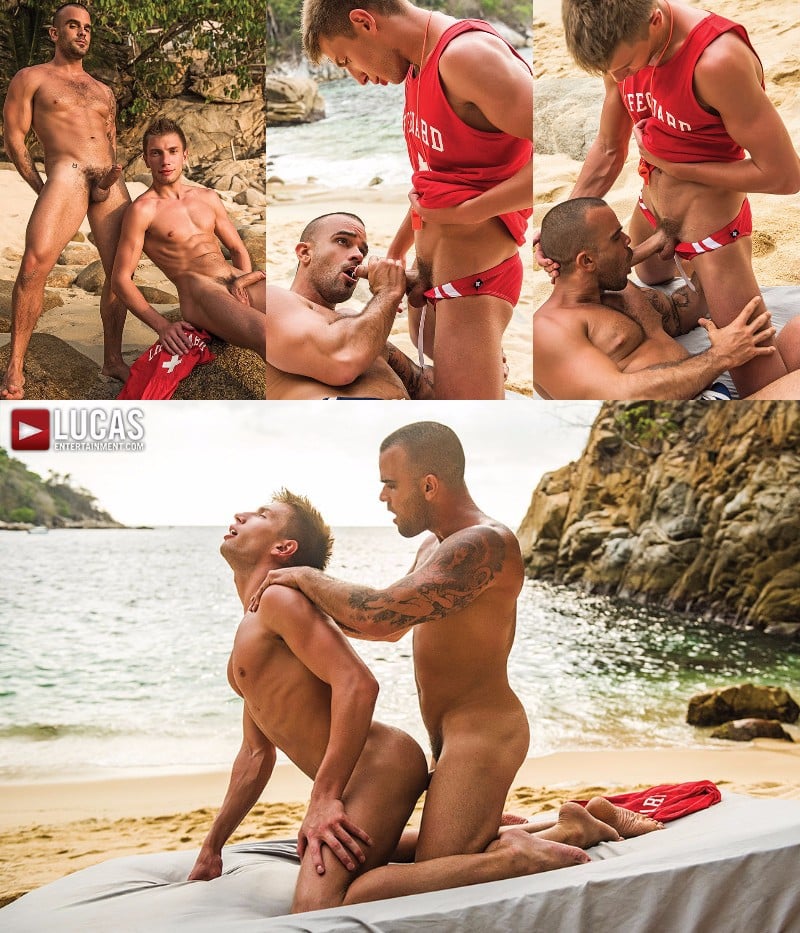 Watch Damien Crosse Drill Bogdan Gromov at Lucas Entertainment
A few weeks ago, Bogdan Gromov was just a porn fan. One of his favourite sites to visit was Lucas Entertainment, and after watching lots of their videos he knew he wanted to star in one. Not only is this Gromov's first porn scene, but it's the opening scene of Lucas Entertainment's new DVD called Good Service.
This is the second lifeguard porno I've seen in as many weeks. Last week, Helix Studios debuted their new release called simply Lifeguards and it features Max Carter, Kyle Ross, Evan Parker, Tyler Hill, Blake Mitchell, Noah White, Sean Ford, Josh Brady, and Joey Mills. I wonder if Pornland is officially tired of stepsons fucking their stepdads and brother-in-laws screwing their sister's brother before the wedding. Have we moved on to lifeguards fucking on the beach? Or maybe swimmers being held up and gang fucked at gunpoint after the big swim meet.
Damien Crosse is lounging on the beach watching lifeguard Bogdan Gromov doing his thing protecting swimmers from sharks and making sure they wait an hour after eating before heading into the water. Crosse fakes a choking fit to catch the lifeguard's attention, and it works. After swallowing the sexy blond's eight-inch cock (is that the new Heimlich manoeuvre?) Crosse slams the lad's ass hard, like I'm-on-steroids-and-they've-turned-me-into-a-fuck-machine hard. But Gromov doesn't complain and wails his way through the drilling. By the way, where did those swimmers go? Maybe they're watching the action off camera. Maybe they're going to join in -- Gromov's bio says he's dying to get gangbanged.
See more at Lucas Entertainment