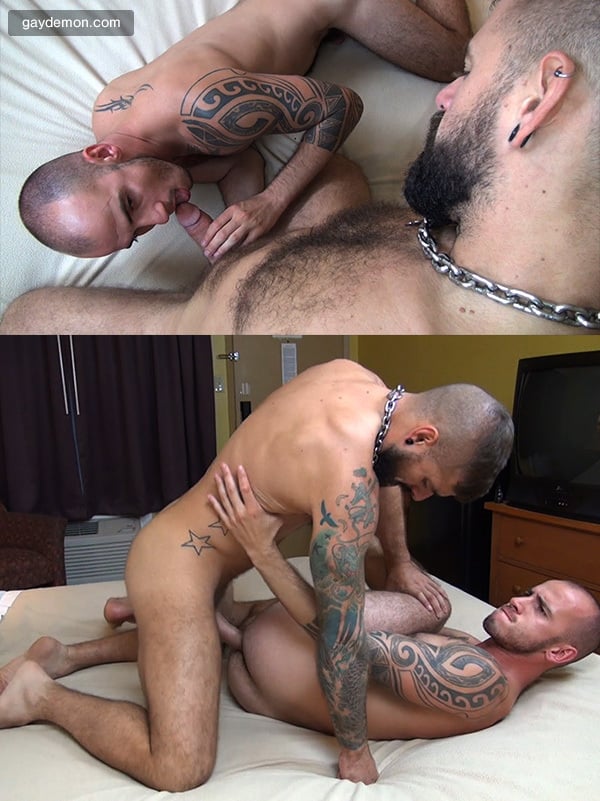 If I had a fairy godmother, I'd ask her to flip her magic wand's turbo switch and hook me up with Cam Christou for a sleazy weekend. Clear my schedule, send the husband off somewhere nice, and hire a cat sitter -- Cam and I are going to fuck our brains out. Christou is fairly new to Pornland, but he's already filmed quite a lot of scenes. And why not? Top or bottom, the man's on fire. He's a passionate fucker who always looks like he's having the best sex ever -- I've never seen him phoning it in.
Christou has been doing a lot of topping lately, but in this scene from Raw Fuck Club he's flip flop fucking with Jon Shield. I love watching Christou servicing a man's hole because he's so good at it, but he's every bit a filthy and seductive bottom. Shield has a deliciously fat cock and I enjoy watching Cam swallow it deep in his mouth. Christou lies on his back with his arms behind his head -- gosh, I can't only imagine how wonderful those dark furry pits smell -- and he enjoys Shield spearing his hole with nothing but spit.
And then my fantasies take off as Christou mounts Shield and gives his horny hole a good screw. This is what sleazy motels were made for. The men have been fucking for a while and Christou is getting close. Shield gets down on all fours, his very hairy ass looks so sexy, and Cam fucks him until his balls can't hold back any longer. He gushes his load on Shield's well-fucked hole. I'm jealous as I watch Cam's jizz slide down Shield's nuts. Where is that damned fairy godmother?