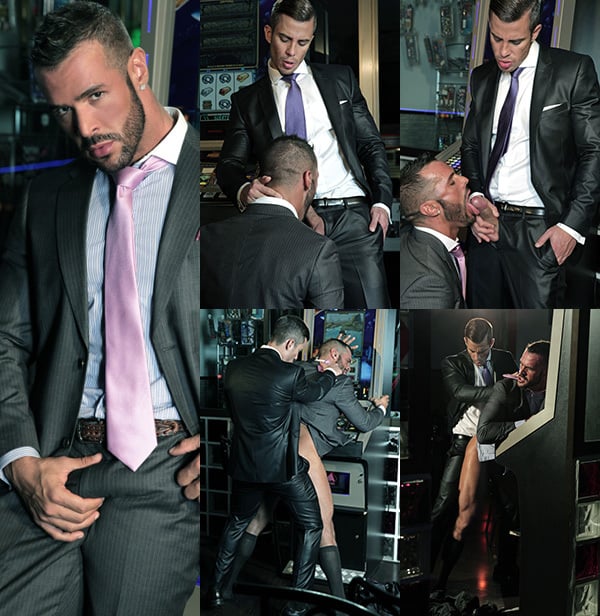 I get the turn-on of men in suits -- almost any man looks extra sexy in a well-made suit. Look at Denis Vegas grabbing his crotch and looking into the camera, could you resist falling to your knees? No, I couldn't. But in this Men at Play scene called "Vega's Vice," he's the one kneeling and gulping Maikel Cash's beautiful uncut cock, but check out his egg-shaped, smooth nuts, they're every bit as delicious.
When the video opens, Vega is at a poker machine while Cash is shooting a game of billiards. And since they're the only two in the bar, it only takes a few suggestive glances back and forth before Vega is on his knees. And then Cash bends Vega over the poker machine, pulls the man's pants down, and screws his ass. Nice!
So as I said, I get appeal of men in suits, but what I haven't been able to nail down is why I find it even hotter when a fully naked man is servicing a man still wearing his suit, like when a nude Vega sits on Cash's dick, then later when he kneels and finishes off the top.
Is it because we're left wondering what's under Cash's suit? Does it make it extra dirty wondering how Cash gets home with spit, lube, and cum stained around his trousers zipper? Or does a suited top give off an extra air of dominance and power? Maybe a fully-clothed Cash allow us to completely focus on Vega's naked body and how sexy he is? Maybe it's everything, maybe it's something else. I don't know, what do you think?