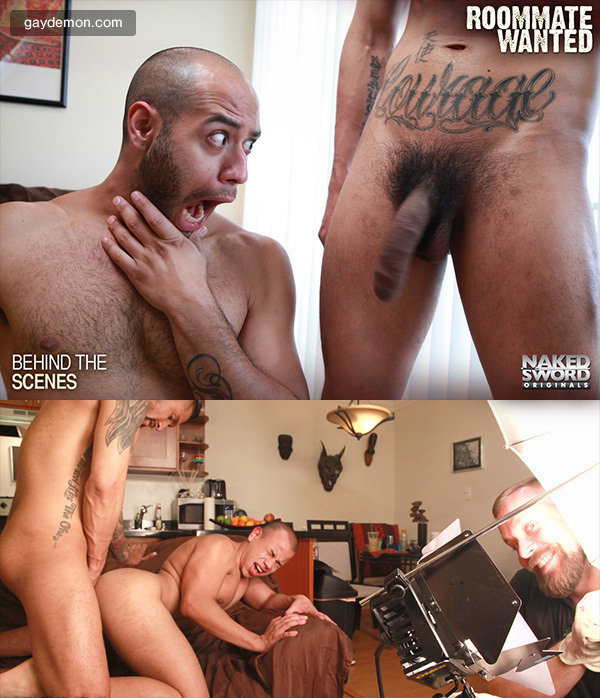 It's always fun seeing behind-the-scenes footage from porn videos. And no one seems to have more fun than the gang at Naked Sword. Director mr. Pam is always photo bombing with her happy face and giant smile. Naked Sword's latest exclusive video is a 4-part series called Roommate Wanted and it explores what happens when guys go looking for shared accommodation.
I'm not going to give away the whole behind-the-scenes reel, but there is one thing that I wanted to talk about. Rey Luis has answered an ad for an open house, so he's surprised when he opens Boomer Banks' apartment door -- it's an open house, why knock? -- and finds the stud naked on the couch with his ginormous dick in his hands. I'm always amazed when I see bottoms like Luis getting fucked by really large cocks, there never seems to be much struggle getting them in. But this BTS reel tells a different story: Boomer is fucking Rey on his back on the couch and suddenly Rey yells, "Stop. Stop. Cramp. Cramp."
They had to stop at least three times for Luis to catch his breath, change positions, or work out a kink or cramp. And I have a lot more respect for guys like Boomer Banks who take it in stride and keep their dicks hard for the next take. Think about it, could you pop one on command over and over through a whole afternoon or day of filming?
Roommate Wanted also features Cam Christou, Colby Keller, Dylan Knight, Joseph Rough, Leo Forte, Liam Harkmoore, and Luke Harding. I've seen two of the four scenes, but just noticed that I missed Colby Keller fucking a cute, blond, beefy lad named Joseph Rough. I'm saving that one for later tonight.