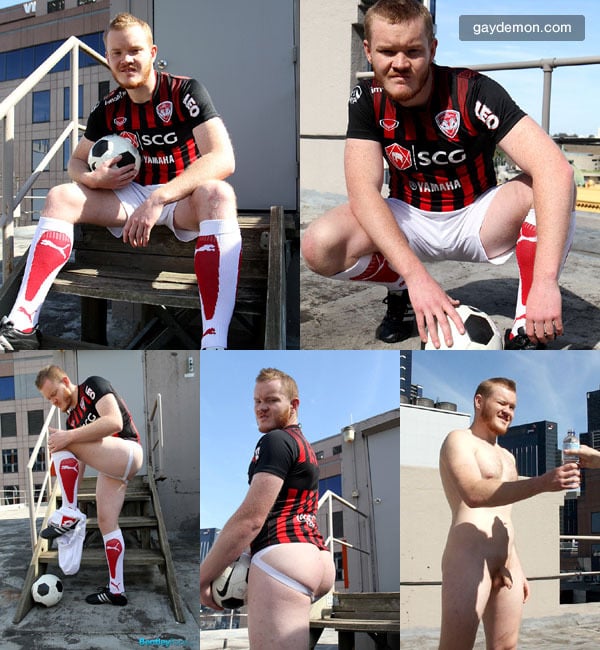 Beau Jackson is a beefy red-headed 26yo lad from Australia. He's into Australian Rugby, and despite Bentley Race totally getting the sports kit totally wrong, he is sportsman enough to appear here dressed in Soccer kit and showing off his Soccer ball skills before stripping down and getting naked on the roof of Ben's apartment building in the centre of Melbourne!
Australian Rugby is a tough game, and normally the players are big beefy types, with plenty of weight to help move the ball forward. Beau has exactly the sort of build you'd expect to see on a Rugby player - yet when he turned up to do this shoot for Bentley Race Ben had totally forgotten he was a Rugby player and only had Soccer kit available for him to wear. The first pair of shorts Beau tried on couldn't even get past his big meaty thighs, so they ended up giving him a much looser pair of shorts to wear. He showed off some of his Soccer ball tricks before losing the shorts and showing off his gorgeous butt, now wearing just his jock strap. He has a delightfully chunky, round bum - developed from many years of Rugby training.
Soon tho, even the jock strap came off and we get treated to seeing his fat uncut cock out in the full sun on a rooftop in the middle of Melbourne! Beau loves all the attention, and the thought of people in nearby offices watching him playing ball - totally naked - just gets him even more turned on, and his cock just gets fatter and harder and all the more visible!