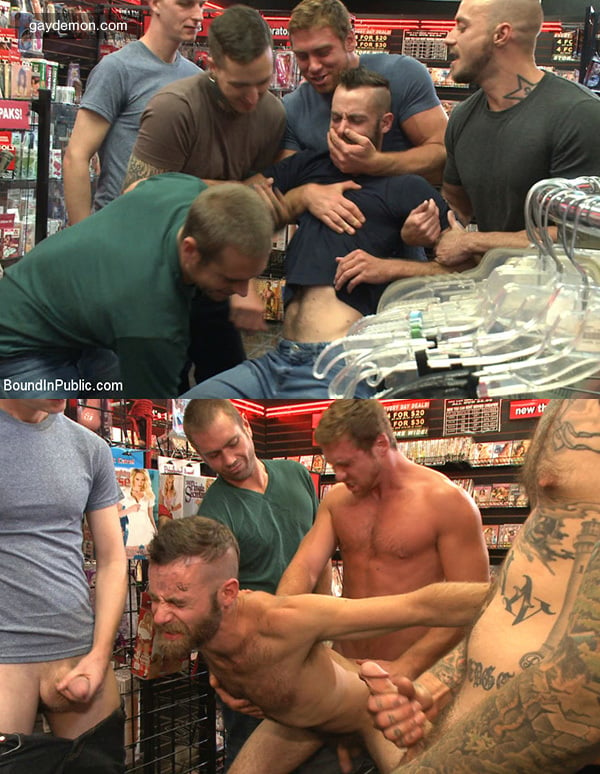 Seth Fisher is a smart ass and thinks he's found a good way to make some quick cash. He posts an ad online telling people that he'll be on his knees giving blowjobs at a local sex shop. But when men arrive one by one, they find out that Seth is renting out his mouth and he's looking for mandatory "donations."
But this is Bound in Public, so you know where this is going. The cruisers get together and decide they're getting their dicks sucked one way or another, so they jump Seth and rip off his clothes. Then they circle around and push their cocks in his face and force feeding him one after another. And before this horny hoard sends Seth whimpering on his way, they bend him over and take turns fucking his ass.
I have mixed feelings about this one. I love seeing Seth Fisher's monster meat sliding into a bottom's ass. But with Seth's mouth and hole seeing all the action, I feel like I'm missing out. I really wish that somehow Seth was able to gain the upper hand and force this gang to bend over and take his big dick one at a time. If you're reading this Bound in Public, how about making my fantasy come true? Although seriously, this is a hot session and seeing Fisher's bushy beard covered in spunk certainly made the whole scene worth watching.