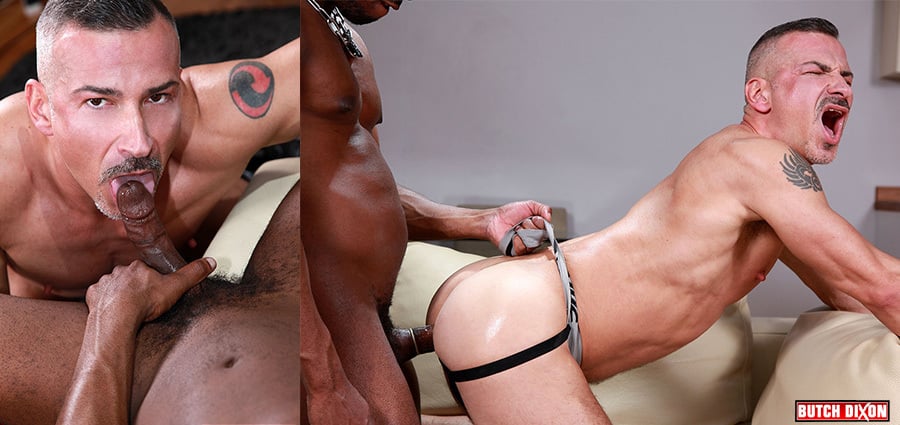 When Italian daddy Giorgio Arsenale hit Butch Dixon back in March, he fucked a hunky bearded bottom. In early June, Giorgio showed up in a solo, jacking his uncut cock and playing with a dildo, and they teased us with this: "Daddy likes his fuck partners, hung and black." And Giorgio also revealed that he's had a longtime fantasy of bottoming for JP Richards. So when the hung American porn performer was in the UK recently, Butch Dixon hooked up Richards with Arsenale and the Italian DILF got exactly what he wanted.
The men are making out on the staircase in Butch Dixon's house, the same place where Rocco Steele pounded Letterio. They kiss passionately, then Richards pushes Arsenale to his knees and stuffs his face. Holding the Italian's head, JP throat fucks him mercilessly. After blowing Giorgio, JP turns him around and eats his ass. Then Giorgio bends over and JP pushes inside his hole. And when the bottom grunts his pain JP orders, "Take it. Fucking take it." Check out JP's handprint on the side of Giorgio's ass -- this top means business.
Bent over a wooden shelf in the hallway, there's nowhere for Giorgio to go, but JP leans on his back and pushes him down anyway and fucks his hole open. Giorgio pants and huffs. But he did say he liked his men hung, right? Maybe his tight hole isn't quite ready for JP's thick meat. Too bad. JP gives this DILF a pounding that he'll be feeling for a couple of days to come. But by the end of the scene, Giorgio is sitting on JP and bouncing on his cock. And for a job well done, JP rewards his bottom by unloading on his face.