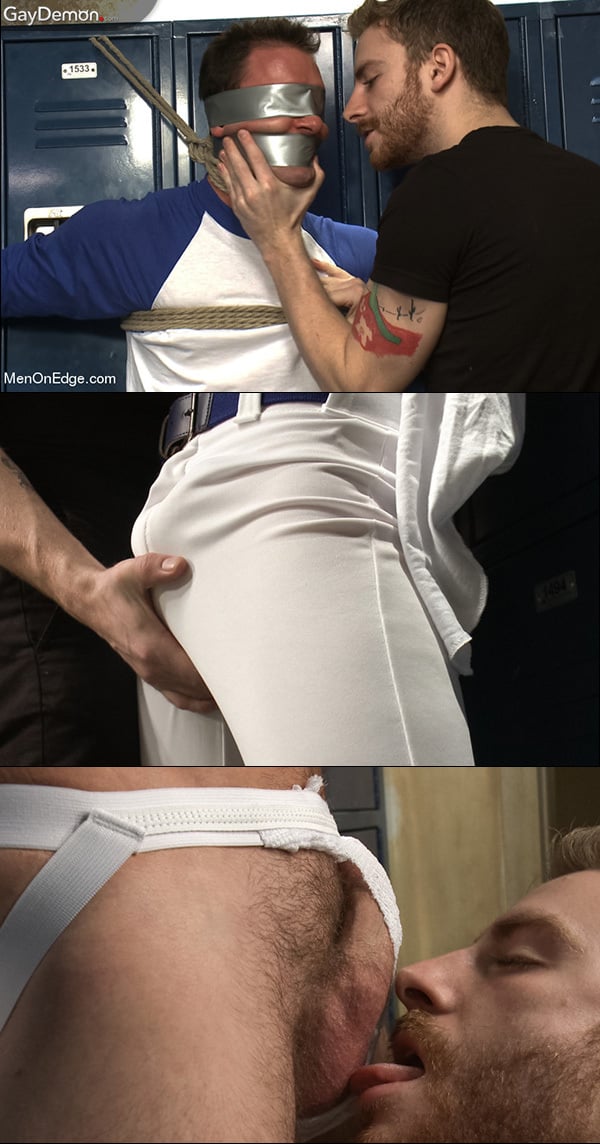 Van Darkholme and Sebastian Keys are a couple of perverts - they love doing nasty things to guys. In this new Men on Edge scene, they're hanging around the gym locker room; it's closing time, so they're waiting for the stragglers to clear out. They've got baseball stud Cameron Kincade tied up and gagged with duct tape and hidden in the dirty laundry hamper.
Finally they're all alone and they tie Cameron to the lockers with duct tape and rip off his clothes. They barely start playing with his cock and it springs to life, sticking straight up at the ceiling. They edge him a few times, bringing to close to unloading his balls but then they stop; and Cameron gets belligerent that they keep denying him a cumload.
This kind of attitude won't do, so they suspend him upside down with rope and flog the baseball player's athletic body. Then they shove dildos down his throat and up his ass, and when Van and Sebastian decide that Cameron has been a good little baseball stud, they finally let his balls unleash a big load of cum all over his chest and belly. But it's not quite over yet: they make him eat his own spunk and then tickle him until he screams for mercy.