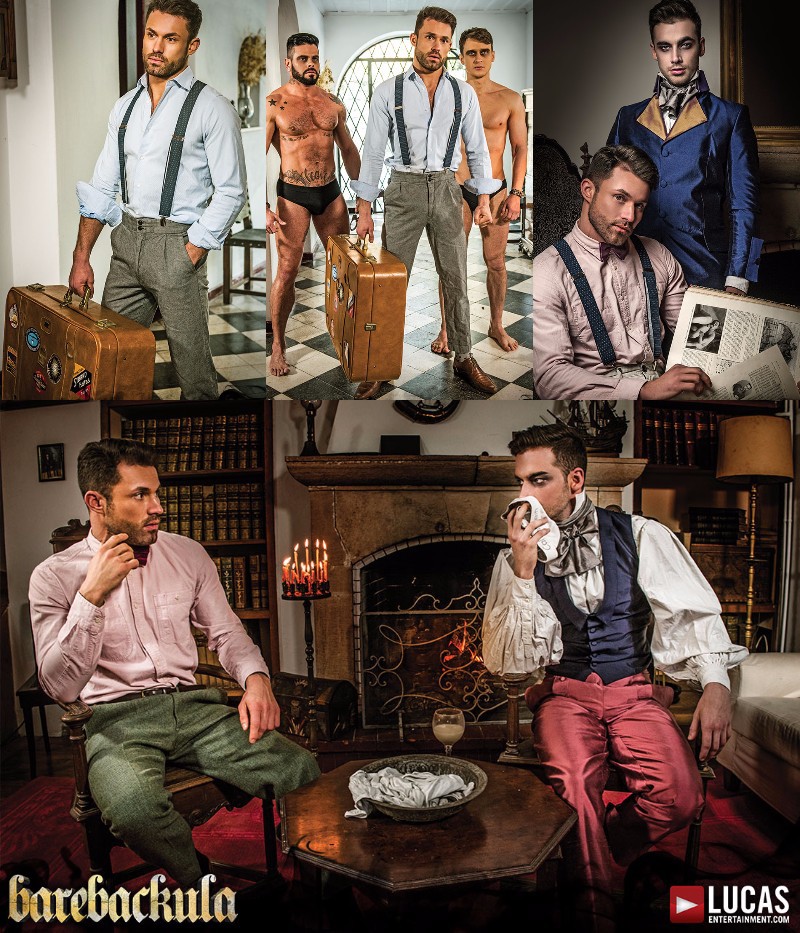 Watch "Barebackula" at Lucas Entertainment
Just in time for Halloween, Lucas Entertainment releases Barebackula. "Once upon a time in a country called Truvadia," begins the narrator. "There lived a man named count Barebackula. And there's no counting how many loads Barebackula has taken. For centuries, Barebackula's ass has hungered to be fed fresh cum. His desire has known no bounds. He has lured in countless male lovers -- young, hung, and full of cum. All of the most virile men have fallen to his seduction. It is for this reason he has summoned Jonathan Harder, a British attorney, to his home at Bare Castle. Harder comes to the castle thinking he has won an all-expense paid vacation, but he will soon learn that the price for his stay is a huge load to bear.
Count Barebackula (Damon Heart) greets Jonathan Harder (James Castle) and invites him into his castle. The Count shows Harder to his room, but along the way Barebackula pushes open a door to one of the bedrooms. Alex Kof is eating out Dylan James' ass on the bed. Harder stands in the doorway, looking on horrified, but he's unable to pull himself away. Who could?
As Harder watches, Dylan positions himself between Alex's legs to spear him with his nine-inch cock. No wooden stakes here, boys. Harder, who is now groping his crotch, starts to enter the bedroom, then he shakes his head and pulls the door closed. Alex and Dylan are left to fuck in private. What's in store for Mr. Harder? Head over to Lucas Entertainment where the second episode of Barebackula is already waiting, but don't miss Alex Kof sitting on Dylan James' nine-inch cock.
See more at Lucas Entertainment