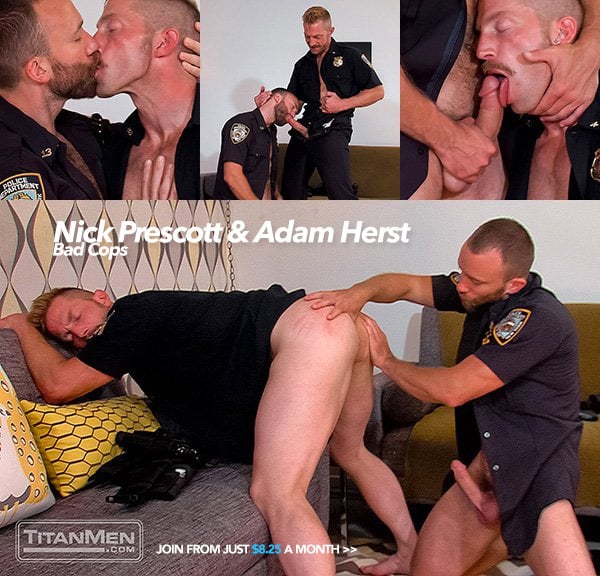 Officers Nick Prescott and Adam Herst have been under investigation by internal affairs. Prescott's file says that he has an "extraordinary amount of sex on duty" and Herst is "morally bankrupt." When Titan Men's "Bad Cop" opens, the two cops are investigating a 2 a.m. alarm call at a private residence. They search the house with flashlights, and finding nothing, Herst takes a piss in the toilet. Prescott calls to him from the living room and Herst heads off to check on his buddy.
Prescott points out a bottle lube on the coffee table and Herst looks overly surprised, as if Prescott has just discovered a 36-inch-long dildo as big around as his thigh. The bottle of lube is sufficient to get these two bad cops groping their crotches and Adam falls to knees and gets the blowjobs started. The police officer trade head back and forth while stripping out of their uniforms, then Prescott bends his partner over the couch and slides his dick in his ass.
With a name like "Bad Cop," I was expecting this video might go in any number of directions like a police officer forcing himself on a random thug on the street or one cop blackmailing another. And I was especially expecting a round of nastiness since Adam Herst plays his Bound Gods Creepy Handyman role so devilishly well. In the end, Nick and Adam just fuck each other on the couch and blow their wads all over Nick's furry body. Hot enough, just not what I was hoping for.