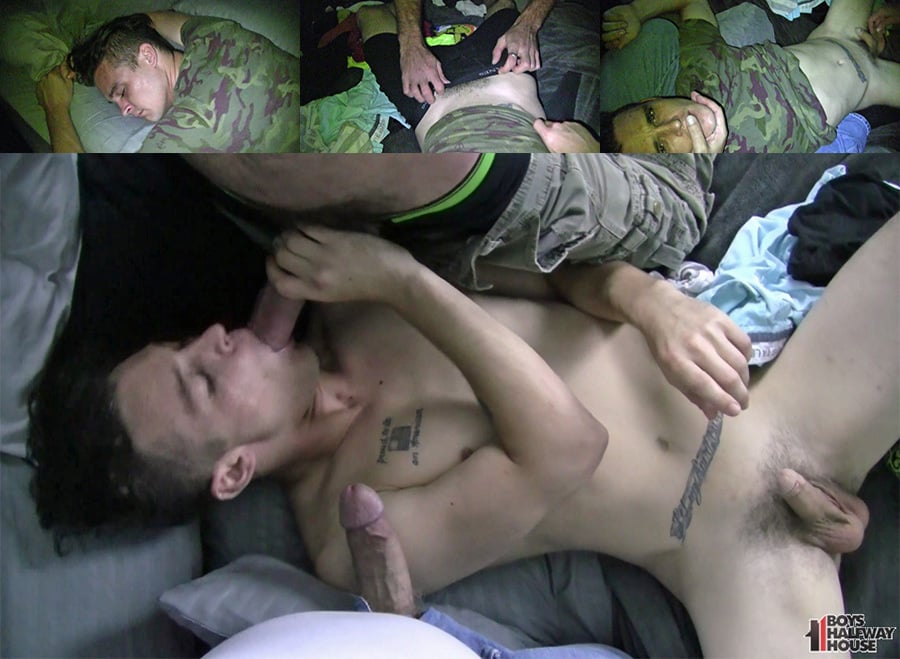 For most of us, when we have a little too much to drink, we pay for it the next day binge watching CSI or Orange Is the New Black and nursing our hangover with Gatorade and Tylenol, maybe something stronger if we have it. But when the supervisors of Boys Halfway House find Kip passed out and cradling a bottle of Jack Daniels, they decide not to wait until the next morning -- he's going to get his punishment now. They pull of his shoes and socks, then his jeans. When he stirs, one supervisors wraps his arms around him and holds him tight while the other pulls off his underwear.
Kip doesn't struggle. He knows he's broken the rules. He's been in this position before, so he knows that the sooner he gets these two perverts off, the sooner he'll be able to go back to sleep, albeit with a belly full of cum and sore asshole. The two supervisors kneel over Kip's head and he sucks one big dick while stroking the other in his hand. With a queasy stomach they had to go easy on him, they don't want him gagging on their dicks -- or worse.
One of the house managers crawls between Kip's legs and pushes his hard-on into the lad's hole. Kip's tiny ass can barely take it and he bellows as this big dick invades his hole. The other supervisor shoves his cock in Kip's mouth to keep him from waking up the whole damned house. No one would come to his aid anyway, better him than them, the other house mates would think. Both men take a turn on Kip's ass, then when he thinks it's over they each have another go. And before this is over, Kip gets both holes filled with his jizz. Will that teach him a lesson about the perils of getting drunk? Probably not.
See more at Boys Halfway House