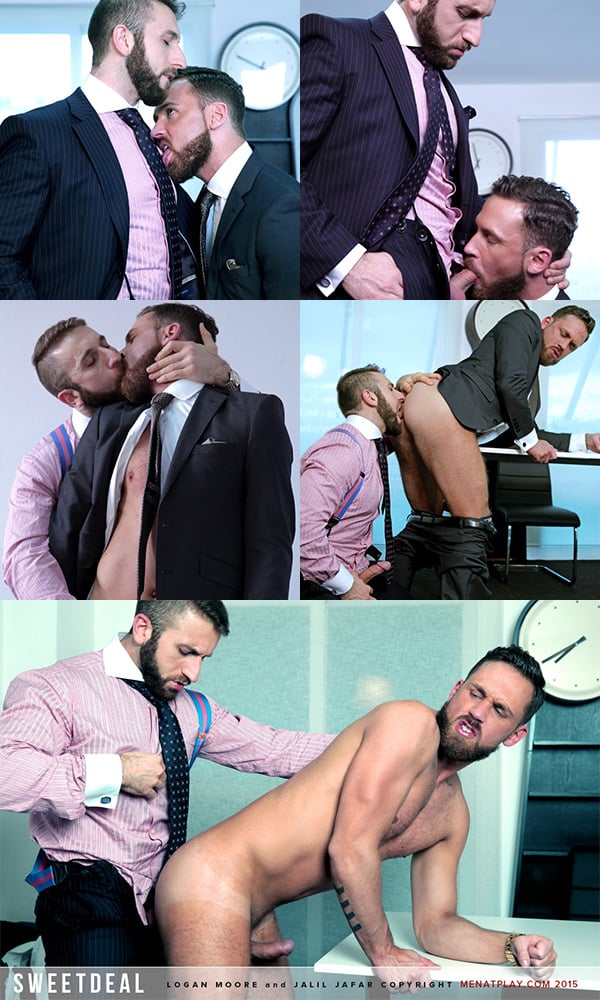 I love new meat in town day. Jalil Jafar is a sexy hunk from Azerbaijan. He's six feet tall with a strong, hairy body; his beard makes him all the more sexy, and he's sporting a big-nobbed cock. The problem is that he's not new to Pornland at all (more about that inside the post) but he's new to me -- I have no idea how I missed him. But I'm happy to watch him screw Logan Moore over his desk in this Men at Play scene.
It turns out that Jalil Jafar has been quite busy in Pornland, and while I haven't seen him before, he's filmed several scenes for Kristen Bjorn. Jafar is versatile, so he's been both top and bottom over there, and even did a fourway with real-life couple Wagner Vittoria and Diego Lauzen. He played in a couple of other fourgies there as well as several duos. And apparently he's the second man from Azerbaijan to film for the studio. I'll have to start checking out Kristen Bjorn more regularly, seems like I've been missing some sexy men.
But back to Men at Play and "Sweet Deal." Cocky real estate Logan Moore is showing executive Jalif Jafar some business properties. Moore struts around like he's all that and a bag of chips. But when Jafar thinks the price is too high, so Moore changes his tune and quickly drops to his knees to see if he can sweeten the deal. The businessman loves the head, but he needs more convincing, so Logan bends over the table and offers his ass. Jafar happily fills it.