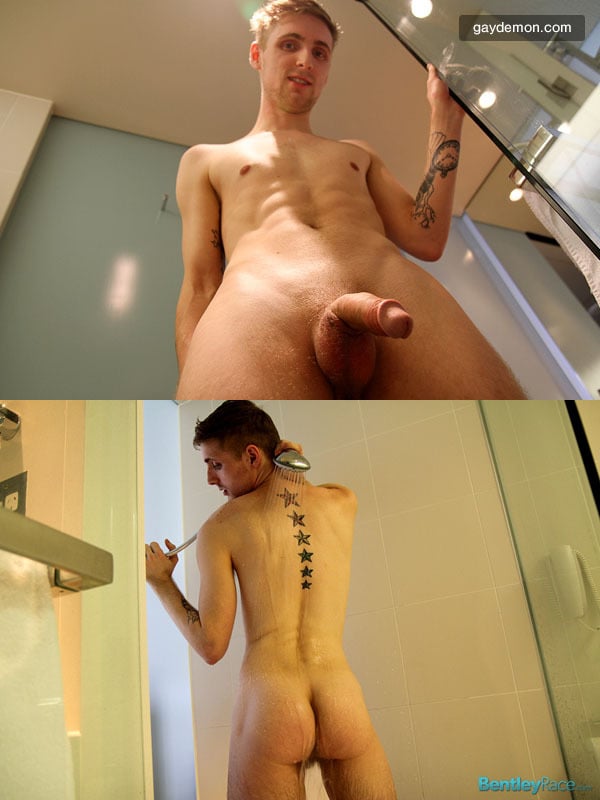 Axle Dean is a cute young lad from Sydney, Australia. He's 23 years old, works as a Personal Trainer and has done one previous photo shoot with Bentley Race and, as Ben was back in Sydney recently, they were able to catch up together again for this new shoot.
As Ben says - Axle has one of the nicest bums you'll ever see! It's smooth and round, like two perfect twin globes, and hiding down between them his tight little man hole! And for those of you who are interested - yes, Axle is gay, and he's a bottom!
Ben arranged for Axle to come on up to his hotel room for this shoot, and he dressed Axel in nothing but some red Speedo's, got him into the shower and turned the water on. Once the Speedo's got nice and wet, they became all clingy, and showed off Axle's ample cock bulge when viewed from the front, and sculpted his perfect arse cheeks when viewed from behind. Then Axle took off the Speedos and showed off his smooth torso and, as the water cascaded down his slim, defined body, over his shaved pubes and along his fat cut cock, it became a small waterfall and looked like Axle was pissing!
Then for one final pose, a real teaser, the Pièce de résistance, Axle turned around, leant his arms against the shower wall, pushed his butt out, spread his legs slightly apart and gave the camera the view we've all been waiting for - OMG, an old man could die and go the heaven happy after seeing this young man's perfect bottom!