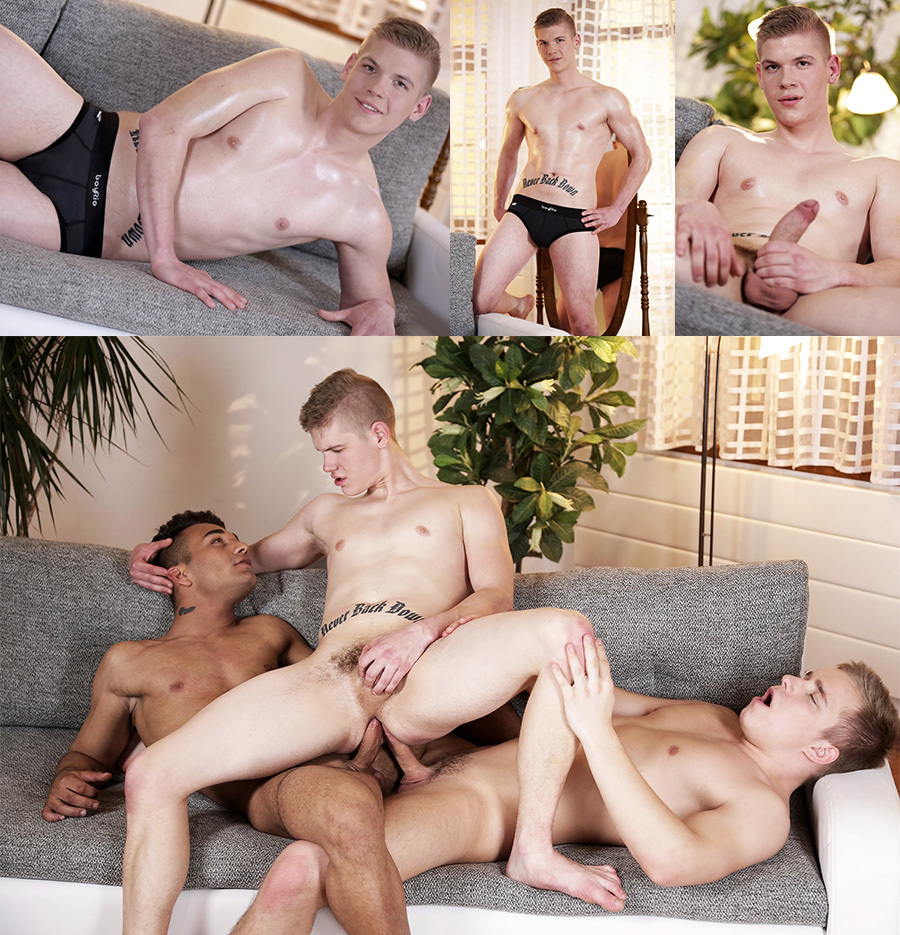 When Ariel Glutton got his "Never Back Down" tattoo, I wonder if he realized that he'd be backing onto dick in porn videos. (Why does a Czech guy get an English tattoo anyway?) And when he picked Glutton as his porn name, I wonder if he knew he'd be sitting on two dicks at the same time. Probably not. This 21-year-old, blond sexpot is making his debut in a double penetration scene at Staxus (this is really his second video). And one of his scene partners, Zoltan Goran, is making his first appearance in Staxus porn. The third guy is one of my personal faves, Carl Ross, he's so fucking adorably cute.
Carl Ross is playing photographer and he's shooting Ariel Glutton in a sexy jockstrap. Zoltan Goran is off to the side (fully clothed) watching at waiting his turn. Carl moves in and slips his finger inside the waistband to adjuct the jockstrap, but he feels Ariel's hard-on. The blond flashes a smile and that's the end of the photo shoot. Zoltan and Carl pull off their clothes and it's a threeway suck fest on the couch, each taking their turn gulping and getting sucked. Carl's cock is longer than Zoltan's, but the dark lad's dick is fatter.
The guys take turns fucking Ariel and eventually they lie back on the sofa ass to ass and Ariel lowers himself onto their cocks. Now you'll be tempted to fixate your eyes on all that meat in Ariel's hole, but you'll want to watch Zoltan. I don't know if he's straight or gay or just how much sexual experience he has, but while Ariel is bouncing awkwardly on their two dicks, Zoltan's face moves from "I'm not sure about this" to "Yeah, that feels better" and then back to "Dude, you're going to break my cock." Nevertheless, Ariel rides his two buddies, then he takes them both again doggy style. As his thank you for an enjoyable double stuffing, Ariel sucks them both off and ends up with a creamy moustache.