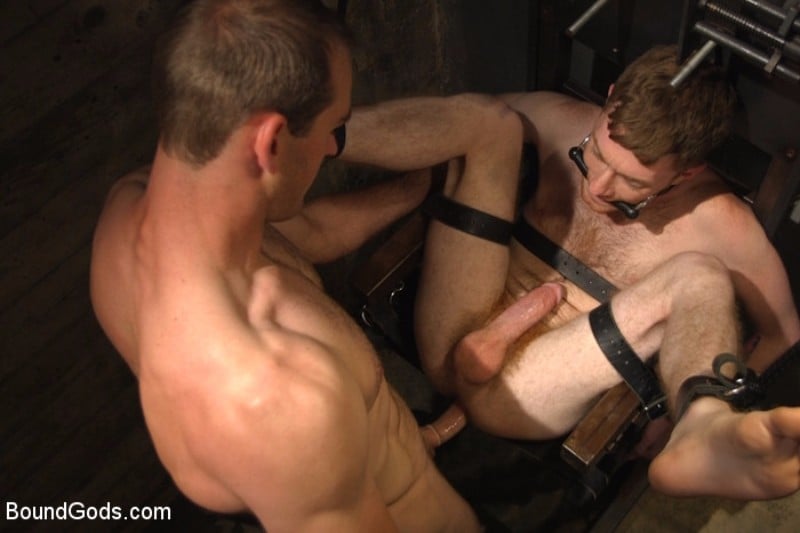 Get Access to 6 Kinky Sites with One Membership - Click Here
Poor Seamus O'Reilly finds himself holed up in a sadistic cop's private dungeon. And every day when police officer Jonah Marx gets home from work he makes Seamus suck him off -- a perfect stress reliever for a hard day. But today's session takes an unexpected turn down Nasty Street.
I remember when Seamus O'Reilly did his first scene at Bound Gods, it was nearly three years ago and he had emailed the site as a fan saying how much he wanted to do a scene with top daddy Adam Herst. The site granted his wish and Seamus caught the porn bug. Since then he's done eleven more scenes with the site, including the first part of this series with Jonah Marx.
On this morning, Seamus has to suck Jonah's cock if he wants breakfast. Seamus tries to escape, but he's caught and Officer Marx brutally paddles the ginger's ass. After flogging O'Reilly, Marx drags in an electric chair and taunts, "Are you ready for your special day? It's the day of your execution." What a mind fuck, eh? Jonah is just kidding about the execution, but he does hook electric straps to the lad's cock, nipples and balls and shoves an electrified butt plug up Seamus' ass. Then Officer Marx turns on the juice and the redhead's hole stretches open for the officer's big cock. Sounds hot, right? I'm wondering why O'Reilly is so desperate to escape.