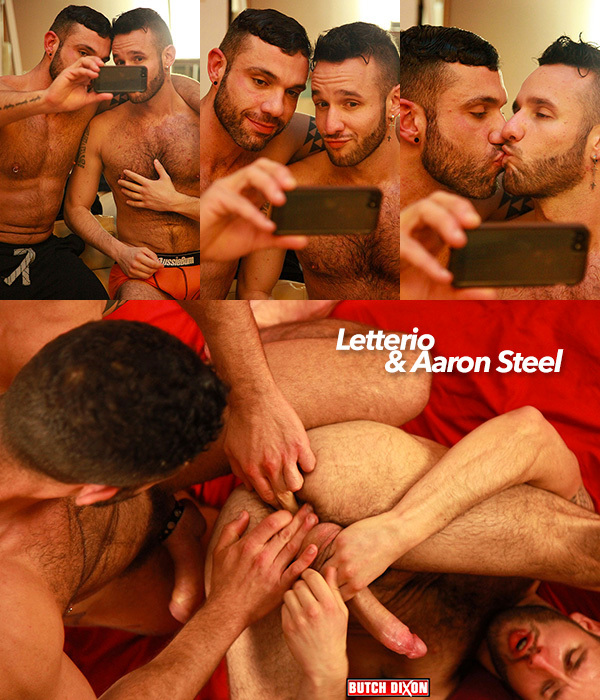 I remember the first time I saw Aaron Steel on video, he was crazier than a bag of cats. Frank Valencia was fucking him in a UK Naked Men scene and Aaron was so animated, verging on hysterical, you know the type: you have to slap them before they'll calm down. Maybe it was his first video, maybe that's how he thought porn performers behaved, I don't know. But his new Butch Dixon scene with Letterio is week is quite different -- passionate, sexy, wish-you-were-there stuff.
When the scene opens, Aaron is on top of Letterio and they're necking. Letterio spreads Aaron's furry butt cheeks and shows us where he's going to be sticking his big, thick cock in a minute. Aaron does have a beautiful ass. They continue kissing, then swapping blowjobs, and they both give great depp-throat head. And it's not long before Letterio pushes Aaron's legs over his head. Okay, here we go.
But the Spanish top dives in with his tongue first and Aaron loves it. Letterio alternates with his tongue and finger, and every time he slides a digit in Aaron's hole, the bottom goes crazy. He moans, pants, breathes hard, and begs Letterio to fuck him. "I want you to give me your raw cock," he groans. Each time as Letterio gets Aaron to the edge, he pulls out his finger and soothes the lad's hole with his tongue. He repeats this little game until Aaron is smashing his head on the mattress. "Are you going to destroy my ass?" he pleads. Letterio finally shoves his huge dick inside Aaron and gives him what he wants.