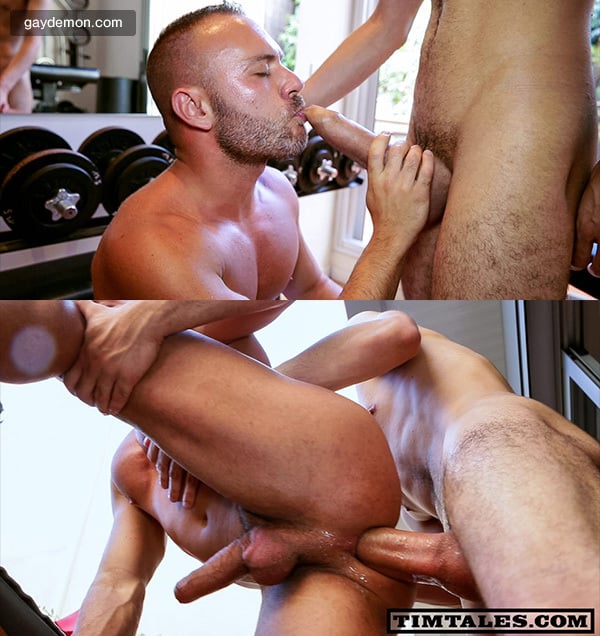 Remember when I asked last week Is A 10x7 Cock Just Too Damned Big? Well, it looks like Doriano answers my question in this new scene from Tim Tales.
Esteban is a Barcelona top who did three fuck videos for Tim Tales last year, then he disappeared into the sunset and left us all hungering for more of his wrist-sized meat. It's been about a year and he's finally returned to stuff Doriano's meaty little butt.
When I saw Doriano giving Esteban a just-the-tip blowjob I thought, "Oh why even bother?" It was pitiful. Then Doriano redeems himself. He hoists himself up on the workout machine and balances while Esteban slides Godzilla in balls deep. Doriano scarcely even grunts. "Woo-ahh." That's the noise Spanish guys seem to make when they're getting done.
But the best was yet to come. They head for the balcony and Doriano bends over the table. His ass is looks beautiful, the kind of butt that tops love to fuck. Esteban lines up his huge meat against Doriano's hole and pushes it right in. "Woo-ahh," Doriano pants. He doesn't complain as Esteban pumps. The only considerable noise Doriano makes is when Esteban is fucking the cum out of him and he roars a loud volley of cum noises. Impressive!