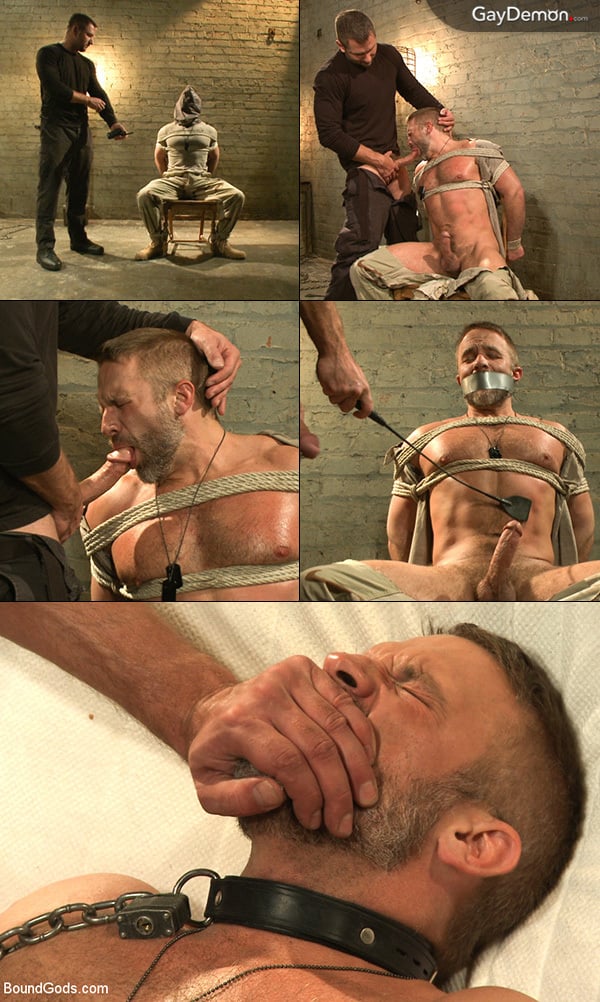 Sexy hunk of man Dirk Caber finds himself a captive in Andrew Justice's perverted playroom. He's been there for ten days now, and whenever his tormentor wants another round of nasty play, Caber can't do much about it. When this Bound Gods scene opens, Dirk is clothed, hooded, and tied to a wooden chair and when Andrew removes the hood, we see that Dirk's mouth is covered in duct tape.
Andrew doesn't ease into this session, he grabs Caber's underwear bulge, squeezes hard, and his captive bellows in muffled screams. Caber's underwear is ripped off and his stiff cock is beaten with a the master's hand and a riding crop. Justice finally removes the duct tape to ram his big dick down his prisoner's throat.
The captive endures a severe flogging and then gets his red ass fucked, before Justine chains him to a bed. With electrodes strapped to his thighs and and electric band around of his hard-on, Dirk screams in pain. But if you look closely, you'll see his cock is precumming heavily, so it looks like his dick likes the electrifying attention. Then Justice turns back to the prisoner's ass and fucks him mercilessly. But Andrew isn't a total cruel master, he does milk a big load of cum out of Dirk's cock while pumping his hole. Ten days, huh? Sounds like a fun BDSM vacation to me.