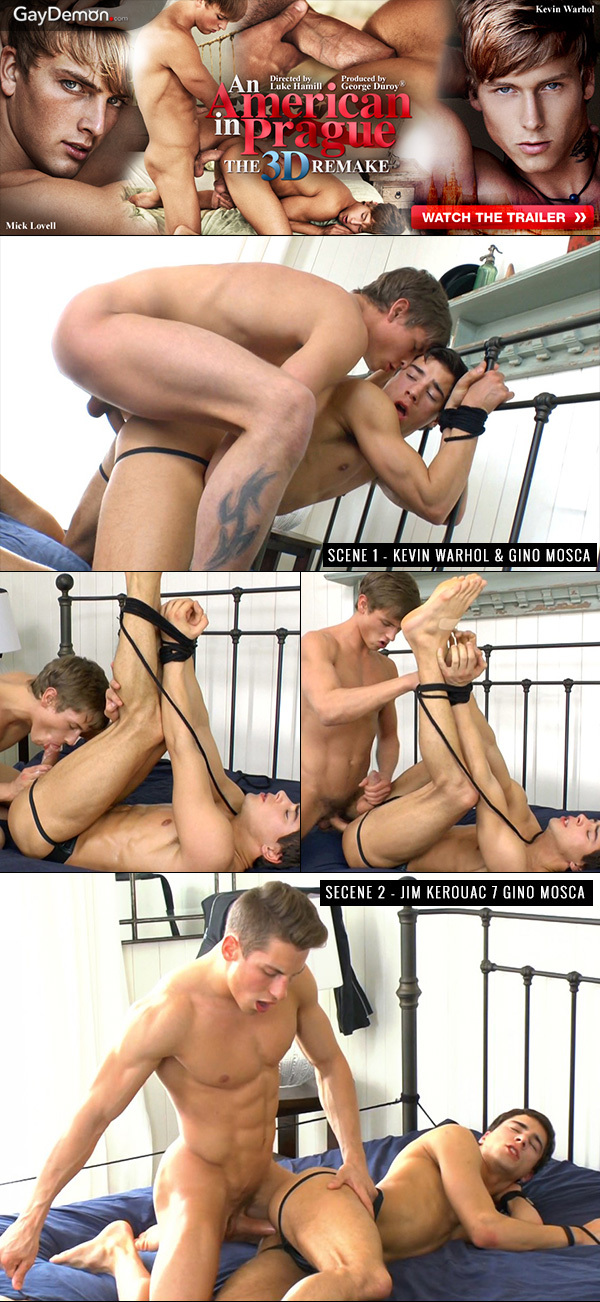 Back in 1997, Bel Ami released An American in Prague, a story about Johan Paulik meetings an American guy named Chance at the airport. The two formed a friendship and went on sexual adventure through Prague. The DVD was hugely popular and Bel Ami decided that it was time to update the story with a whole new cast of hot guys.
Kevin Warhol is the Czech guy who is meeting his American friend, Mick Lovell, at the airport. Kevin is distracted by Gino Mosca and forgets about picking up his friend. When he gets Gino tied to the bed with his ass in the air, Kevin isn't thinking about anything except stuffing his big cock inside Gino's sexy butt. After fucking Gino and blowing his cum wad all over the boy's cock and balls, Kevin suddenly remembers his engagement and runs out of the room, leaving poor Gino bound to the bed. When Jim Kerouac enters, Gino pleads to be untied, but Kerouac decides he'd rather shove his huge dick into Gino's well-fucked ass.
The third scene opens with Jean-Daniel Chagall and Kris Evans playing around in the swimming pool. They head inside and Kris towels Jean-Daniel off on the room's balcony. Rubbing the towel between Jean-Daniel's between ass cheeks gets Kris horny and he embraces the boy from behind and they start kissing. They swap blowjobs in the open air, then head inside where Jean-Daniel rides Kris' big dick on the bed.
And finally, we end with Mick Lovell arriving and walking in on Luke Hamill, who is finishing up the last shoot. Kris and Jean-Daniel are just ending their fuck session on the bed and Mick starts teasing Luke by grabbing his crotch and saying, "Come play, I'm horny." Luke tries rebuffing Mick with "I'm working," but Luke knows Mick has a monster cock and can't resist. After swapping blowjobs, and it's quite hot watching Luke trying to swallow Mick's huge dick, Mick gets down on all fours and Luke shoves his raw dick inside Mick's hole with an "Oh God, it feels so good." I won't tell you exactly how the rest of the scene goes, but let's just say that Mick's face needs a thorough washing.