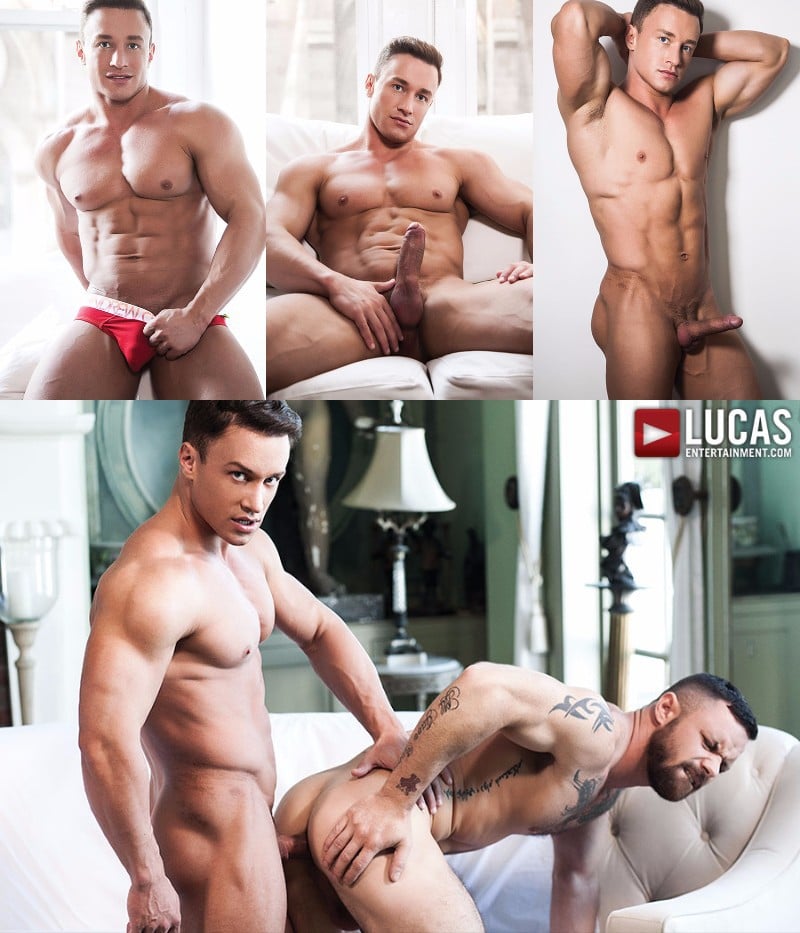 Russian hunk Alexander Volkov debuted at Lucas Entertainment at the beginning of November when he bottomed for Adam Killian in a hot gym scene. He's a good-looking hunk and I'm glad he's back in "Alexander Volkov Tops Sergeant Miles." I like watching Miles bottom, he always makes such a big production out of getting a dick up his ass, i.e. every fuck sounds like he's taking a foot-long up his chute.
I'm generally pretty happy with Lucas Entertainment scenes, they have a nice mix of guys and all the action is bareback now. But I don't like how almost every scene has to be a flip-fuck. What's the matter with a guy simply pummeling another guy's ass and leave it at that? It's how things work in my bedroom. The fact is that Alexander Volkov does top Sergeant Miles for half of this scene, but then they flip and Volkov gets his hole stretched for the rest of the session.
Having said all of that, my favourite part of this scene is watching Sergeant Miles bottom. Like I said coming into this post, he makes a lot of noise when he gets fucked, and while that can sometimes be annoying, Miles makes it seem as though Volkov's big dick is a real effort -- and maybe it is - but I don't seem to mind it so much. When Miles rides Volkov, his own huge dick twirls and flops around wildly, it's so horny watching that. Then for the last half of this 50-minute video, Miles gives Volkov an ass full and makes him bellow just as much.
See more at Lucas Entertainment