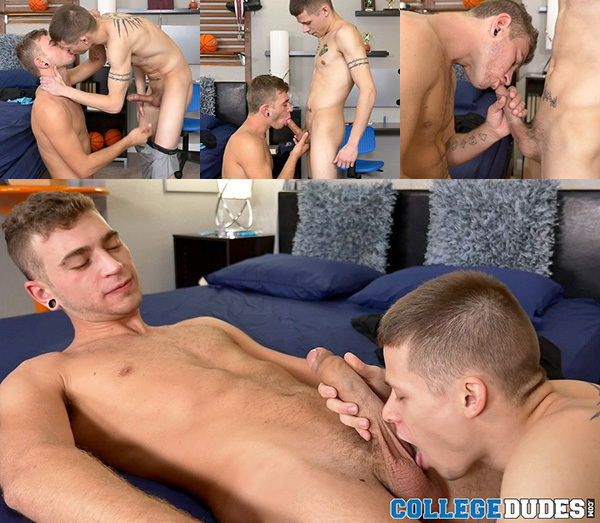 Alexander Greene has filmed five scenes for College Dudes in the past month, and he's gotten fucked in four of them. Greene has always been versatile -- I prefer him as a top because he's got such a lovely big cock -- but I noticed that he's been bottoming more, especially for College Dudes. In this brand new video with Dillon Anderson, Greene doesn't only bottom, but he tops too. Wait until you see how huge his cock looks.
This pairing interesting because Dillon barely comes up to Alexander's chin and I find differences a turn-on, you know, like smooth and hairy, black and white, cut and uncut, tall and short. Dillon is a tiny guy and watching him licking and sucking Alexander's big cock makes it look all the bigger.
Alexander hoists Dillon's legs up on his shoulder and starts pushing his huge dick inside; Dillon's hole fights back at first, then gives in. These two lads take turns fucking and it's a turn-on watching how much they're enjoying each other. But I think the hottest moment is watching tiny Dillon pounding Alexander's hole while the tall blond pumps his dick and sprays all over himself. Like I said, differences are hot.