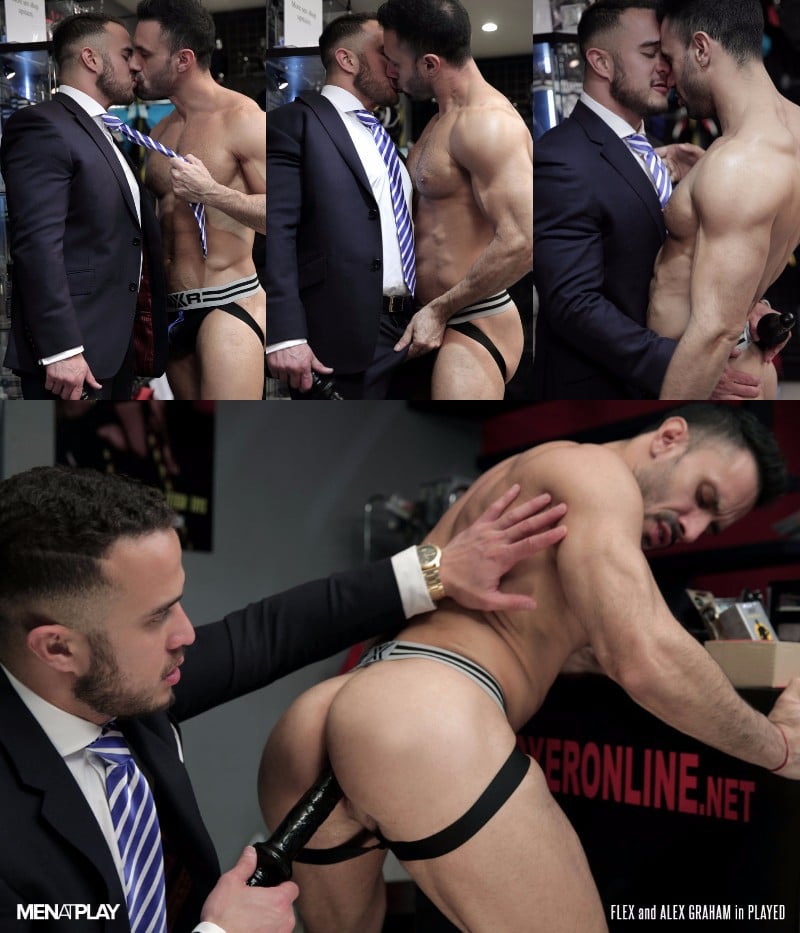 Watch Alex Graham Boning Flex in the Sex Shop
Handsome hunk Alex Graham approaches the man sitting behind the counter at this leather and fetish shop. "Hi, I'm here for the interview," Graham says. Flex sneers at him: "No hablo Inglés." But Flex likes this American stud, so he pretends to be the boss and gives him a tour of the store and shows him various sex toys and lube, all the while speaking in Spanish.
Flex shows Alex Graham a dildo and says in Spanish, "This one is flexible, not so long, medium size. It's really versatile." (Thank goodness for subtitles and Google translate.) Flex puts the dildo into Graham's hand, then he grabs Graham's tie and pulls the hunk closer for a kiss. Flex is only wearing shorts and a t-shirt, so it's not long before he's stripped down to his jockstrap. Graham fingers his ass while they continue to neck. Flex bends over the counter and offers his ass. No words -- some things don't need translation.
Alex plays with Flex's ass, sliding the dildo inside and opening him up. Alex pulls his hard-on through his zipper and pushes between Flex's big butt cheeks. Alex starts pumping, then peels off his jacket and drops it to the floor. Still thrusting, he loosens his tie. This hunk means business. He sits on a crate and Flex backs onto his erection and rides him deep. Did Graham get the job? I don't know. I have never had an interview like this. How about you?