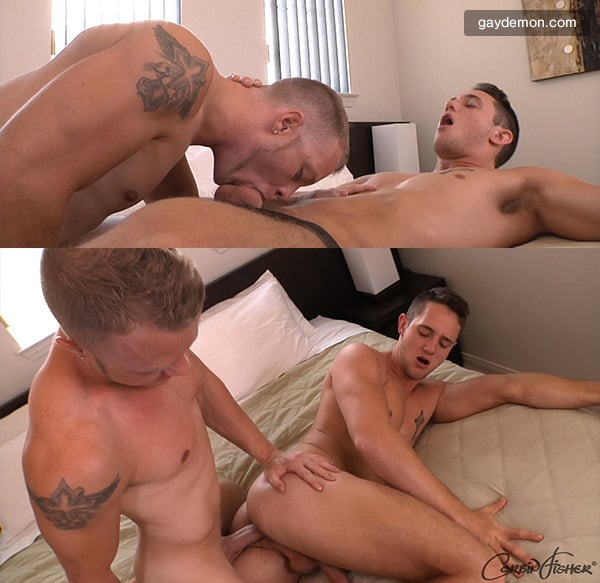 "It was definitely different, but nice," said Kennedy the first time he had sex with a guy. That was last October at Corbin Fisher and since they he's repeated it 10 more times. This is number 11. While Adam is drilling hard, Kennedy is singing a different song. Kennedy sure has taken to dick.
Blond stud Adam hasn't filmed at Corbin Fisher for a while, but clearly, he was happy to be back: "That Kennedy is quite the hot one," he said. But Adam is a sexy guy, too, with a chin strap beard and an 8.5-inch cock, and he's been working out since his last visit. The guys start off with some kissing and nuzzling, then when Kennedy leans in for another kiss, Adam pulls back. Time to move on to other things.
Initially I thought Adam had a problem kissing guys, but seeing him deep throating Kennedy and ramming his tongue between his buddy's ass, Adam doesn't have a problem with any of this. After getting Kennedy revved up good and proper, Adam climbs on board and starts filling hole. I absolutely loved seeing his hands pressed on Kennedy's shoulder blades and Adam pumped ass hard. He alternates between forceful and fast pounding and deep and slow. And by the time the blond is ready to unload his nuts, Kennedy is begging for it.