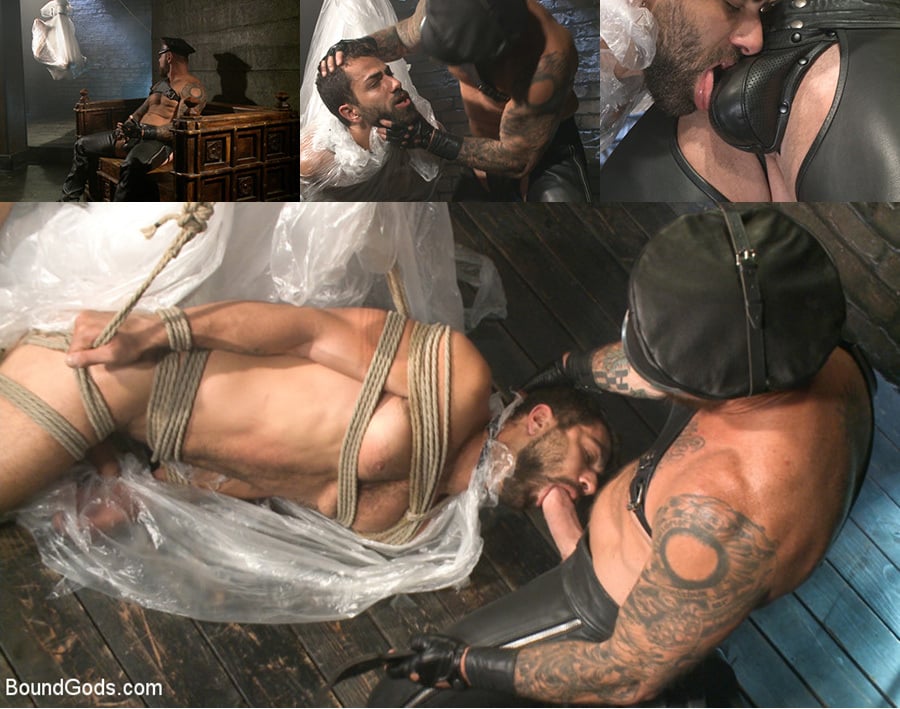 I've been waiting for Rocco Steele to serve as dungeon master in a Bound Gods scene, so I was excited to see Adam Ramzi hanging from the rafters. Before I started writing this post I thought, "I'd better check and make sure this really is his first Bound Gods scene." Good thing I checked: Back in June, Steele did his first scene with three guys in their dog masks and padded paws and Steele was choosing which one he wanted to fuck. That was fun. And this new scene with Adam Ramzi makes for a very horny double feature.
When this scene opens, Rocco Steele is sitting on a giant, wooden throne and he's whacking a leather strap in his hand. Meanwhile, Adam Ramzi is suspended from the ceiling in a large plastic cocoon. Steele finally lowers his slave, rips open the plastic, and starts laying leather against Ramzi's bare ass. Ramzi hollers until Steele takes a break and massages his thumb against his slave's butt hole. Ramzi moans. He groans louder when Steele pushes his finger deep inside. But Master Steele makes his sub wait for his monster cock.
He ties Ramzi to a pillar and sucks his cock. Ramzi is hooded and has a zipper line of clothes pins up either side of his torso. "I'm going to cum," Ramzi says. Steele pulls off his sub's dick and bellows, "No!" then he rips the string of wooden pegs off his body. Ramzi screams his head off. Then Ramzi is face down on a table and Steele sits on his ass dribbling hot wax all over his back. Steele finally pushes his supersized dick into Ramzi's hole, and despite Ramzi's hollering Steele buries himself balls deep. He wraps his arms around Ramzi's head and pumps the bottom's ass hard.