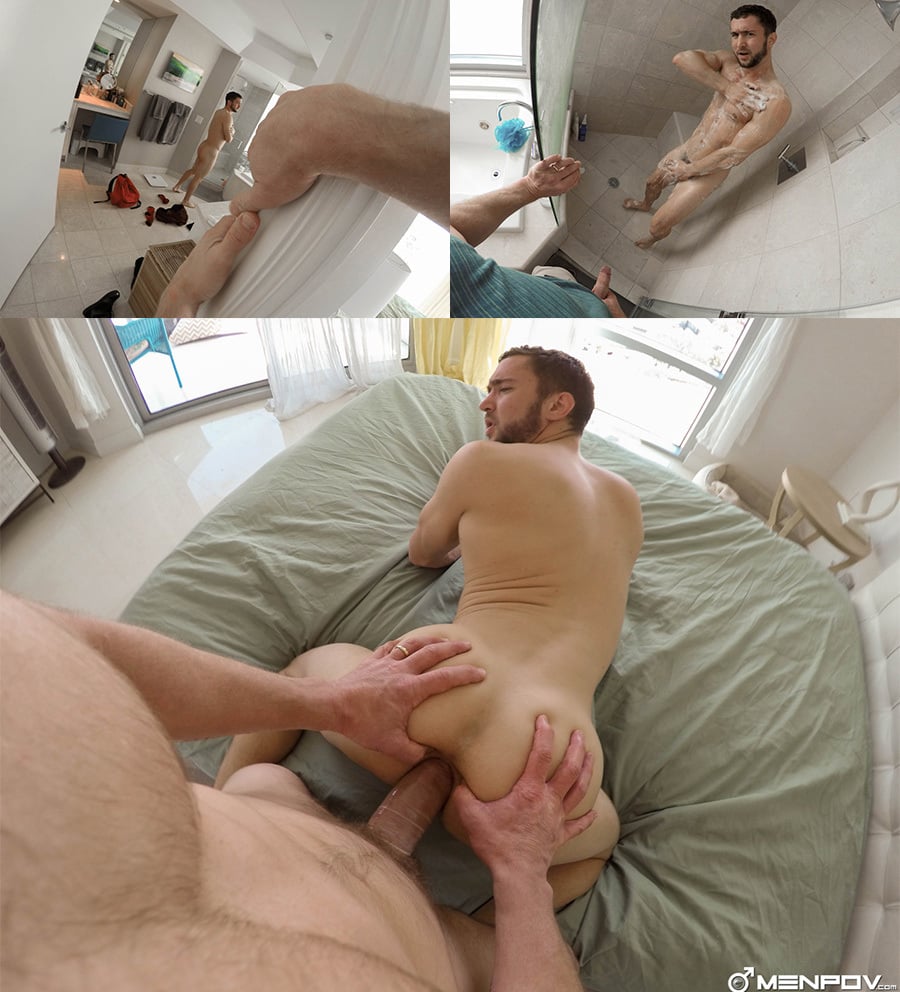 If I can't have sex with Adam Herst -- and I'd dearly love to, he's one of my favourite big-dicked daddies in Pornland -- then watching him screwing Colt Rivers in a Men POV scene is the next best thing. I can just lie back and pretend he's looking at me. But watching him stretching out Colt's hole might just make me feel more envy than horniness. Anyway, enough about me and my obsession with Adam Herst, come inside and see the twist in "Daddy POV."
Almost a year ago, Johnny Rapid and Dirk Caber fucked in the shower in "Stepfather's Secret." Caber was the dirty stepdad spying on his stepson in the shower. It was one of MEN.com's most successful series and spanned eight episodes before it was finally retired. Now Men POV is picking up the ball with Adam Herst playing the dirty stepdad spying on his stepson, Colt Rivers, undressing and lathering up in the shower. Colt initially freaks out when he sees Herst walking toward the shower, but they he sees the niner Dad is swinging between his legs. "It's alright," Herst says, "Your Mom won't be home for a while."
After soaping each other and swapping head in the shower, Adam and Colt hit the bedroom where Colt gets his beautiful butt stuffed with Dad's big tool. The cock-in-hole action is something else with Adam holding Colt's cheeks wide open with his giant hands. And after getting screwed a number of ways, Colt gets covered with his stepdad's spunk. Not only is Adam Herst a dirty Dad, but he's also a cheater too, aside from this Men POV series, he's got another series over at MEN.com called "My New Stepdad Is A Pervert" and Saturday's episode is a part of Johnny Rapid's comeback, it's a five-man gang bang, so you don't want to miss that.