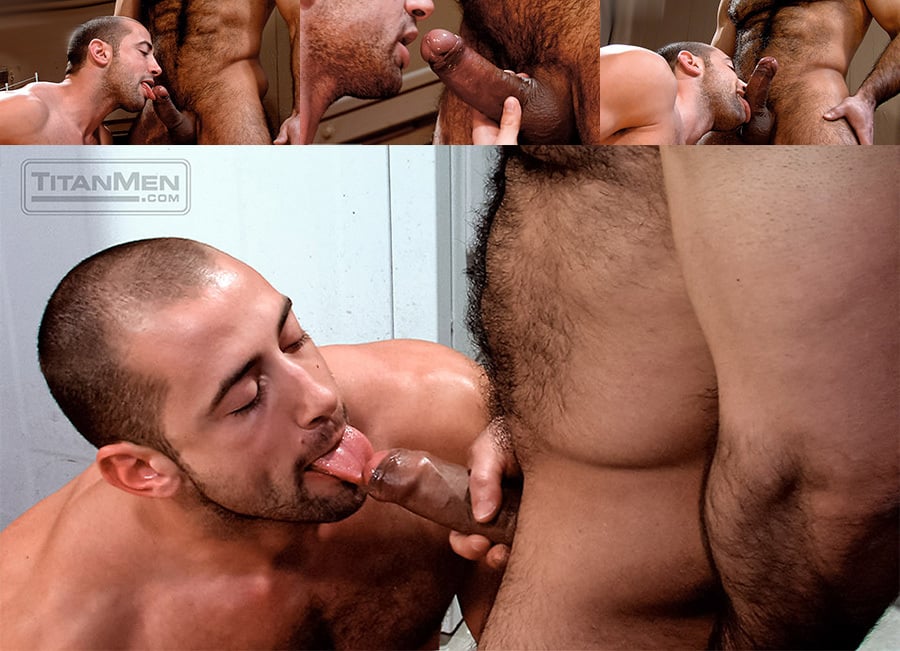 It's been an exceedingly hard week over here -- there's been so much hot uncut dick hitting Pornland in the past week or so. A foreskin hound like me could go mad jacking his dick several times a day to keep up with it all. I do have other things to do, you know. So along comes Donnie Dean in Titan Men's Catch 22 and he's got Adam Champ's thick, brown, uncut cock all to himself. Man, it's a beautiful dick and it drives me nuts watching Dean flicking his tongue around Adam's foreskin.
Donnie Dean has always been a great cocksucker to watch, he really knows how to service a man's dick. You won't find him giving any just-the-tip blowjobs unless it's purposely to taste Adam's juicy and salty head and push that foreskin back with his lips. After giving Adam's dick a thorough working over, Donnie leans against the wall and offers his ass to Champ. The hairy muscle hunk happily stuffs it. Can you imagine having those 200-plus pounds thrusting into your ass? Champ could dislocate my hip and I wouldn't complain, well, maybe just a bit.
Donnie and Adam head for the floor in this store room and fuck doggy style. With Adam holding Donnie's hips, he continues drilling the hell out of him. Then Donnie lies back and Adam holds his leg and fucks him to the finish line. I had forgotten how big of a shooter Dean was -- his cum load flying across his torso with the first blob hitting it's mark on Donnie's nipple. Wow!