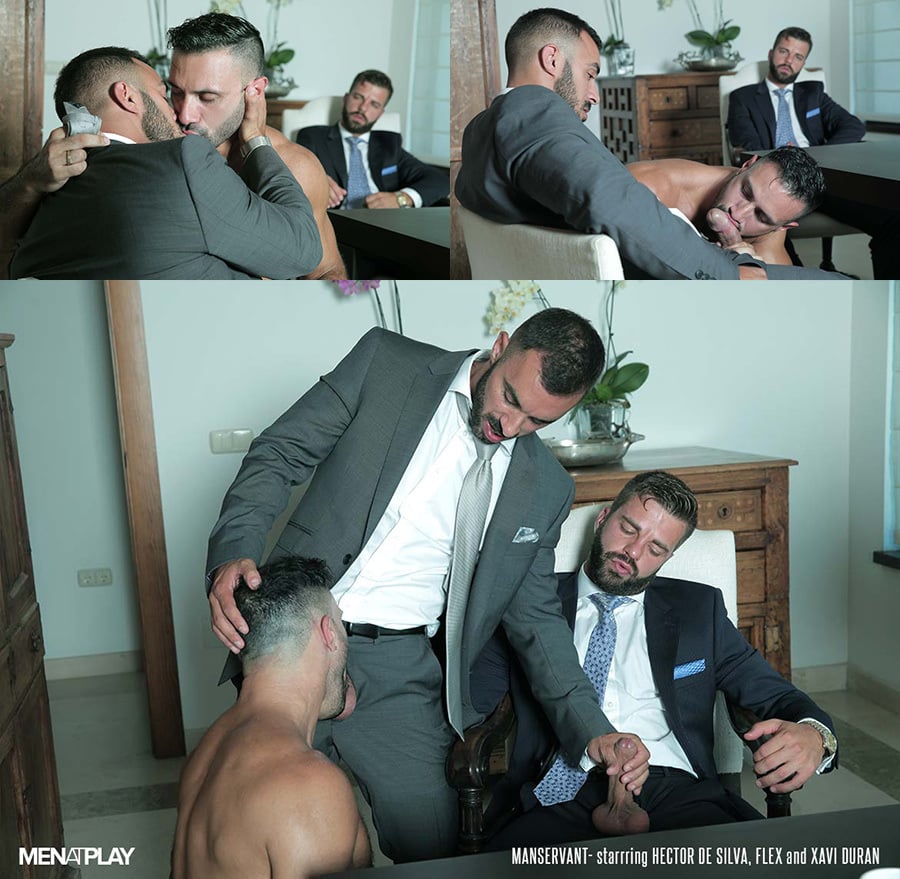 Hector de Silva is a rich business man who likes to show off. As Men at Play's Manservant opens, Hector has called young associate Xavi Duran to his hillside villa for a meeting. It's just a pretense to impress Xavi not only with his beautiful home, but his sexy butler. But Hector is a generous man, so when Xavi ogles his half-naked manservant, Hector asks Flex to bring them coffee. When Flex says he needs to get dressed first Hector says, "There's no need, you're fine the way you are." Come inside and see what happens next.
One of the first things I'd do after winning the lottery is I'd hire a houseboy to take care of my partner and me. I like "houseboy" better than "manservant," although he definitely be a big, hairy muscle hunk. Hung and uncut too. And aside from making our meals and working us out in the gym, it would be his job to take care of us in other ways, just like Flex does in this video. Wouldn't that be the life? Do you think I'm a lecherous perv for making my houseboy service me?
When Flex serves Hector and Xavi coffee, the boss has him turn around so they can check out his ass. When Xavi growls his approval, Hector tells his manservant to take care of Xavi. Hector watches as Flex kisses Xavi, then he pulls out the hunk's big-nobbed cock and licks it. After getting a good taste, Flex crawls over to blow his employer while Xavi fingers his hole. Hector orders Flex onto the table and he and Xavi share the butler's mouth and ass. Flex does a good job in his duties getting his ass tag teamed and putting his mouth to good use too. Hector and his manservant give Xavi a business meeting he'll never forget.