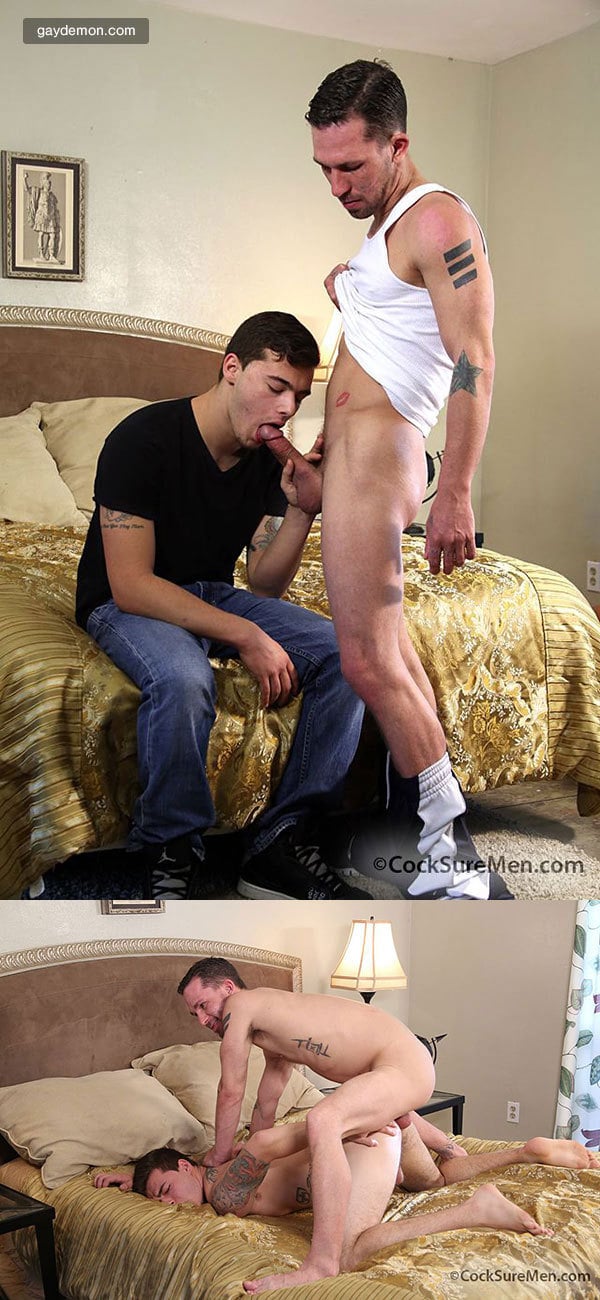 James Hamilton is one of those C-list gay porn performers: you see him around from time to time -- sometimes in one scene after another for a while, then he disappears -- but you can never remember his name. It might have something to do with the fact that he was arrested three times in 2010 and 2011. I don't know if he actually did jail time, but regardless, he's got that bad boy look that we like so much in gay porn.
James Hamilton showed up on Cocksure Men a few weeks back playing a plumber who fucks his buddy over the kitchen sink. This week he's helping Trevor Spade move into a new place, and by "help" I mean Hamilton drops a box of the floor, grabs his crotch, and throws Spade on the bed and fucks him hard.
Like I said, Hamilton has a big cock. I've seen him in other videos where his dick looks massively huge (he had four cocksuckers fighting over that thing over at Sketchy Sex), but in this Cocksure Men scene, it just looks average big, which is still long and thick enough to make Spade gag. Spade also whimpers and squeals when Hamilton fucks his bare hole. It's hard to tell whether Spade is having trouble with the size of Hamilton's penis or his hard, take-no-prisoners thrusting style. Hamilton does get that whole bed rocking.