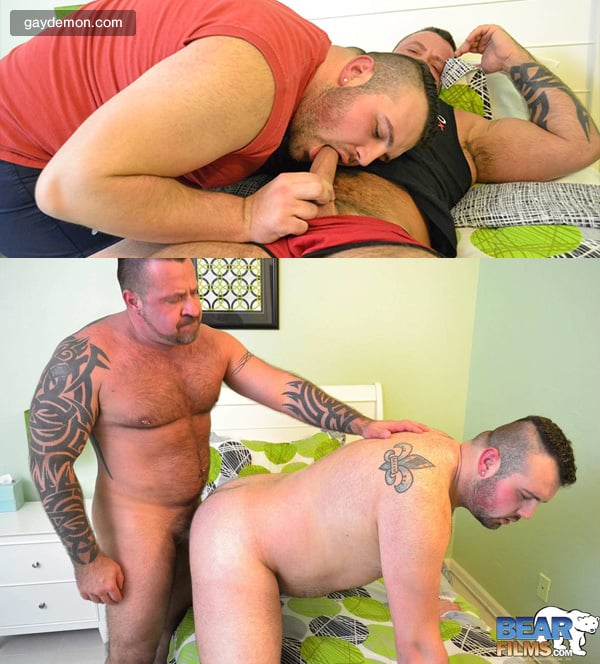 I thought my favourite bear was done with porn filming. I haven't seen Marc Angelo for a long while. But then this new scene from Bear Films popped into my mailbox this week. And Marc Angelo is very much back and fucking the ass off beefy cub Rex Blue. Well, sort of back, let me explain.
Back in the summer, Marc Angelo did some filming in Palm Springs for Bear Films. He did a three-part scene that started as a duo with Carlo Cox (see Hairy Hot Tub Fuck here at GayDemon), then Brad Kalvo joined for some threeway action, and the final scene had Rex Blue make it a fourgy on the grass. Then in another session, Steve Sommers and Rex Blue were already getting into it in their hotel room when Marc Angelo and Lobo Al crashed the party and these bears almost broke that bed with a hard-pounding fourway.
But it seems Angelo and Blue developed a little crush for each other during their stint in Palm Springs. So before heading home to their respective cities and boyfriends, they asked Bear Films to let them do a scene together, but alone. A bit of a hard fuck goodbye. And it's another scorcher, especially seeing Angelo lie back while Blue rides his bone and finally spews his cream all over Angelo's furry chest.
And I talked to Marc Angelo on Twitter and he tells me that he's just filming four more Bear Films scenes in Las Vegas. And it turns out that he was just taking a bit of a break and has been doing some behind-the-camera work. He directed and filmed a scene featuring Troy Webb and Wade Cashen, which I blogged about under "Who's Ass Is That?" So all is well in Bearland.