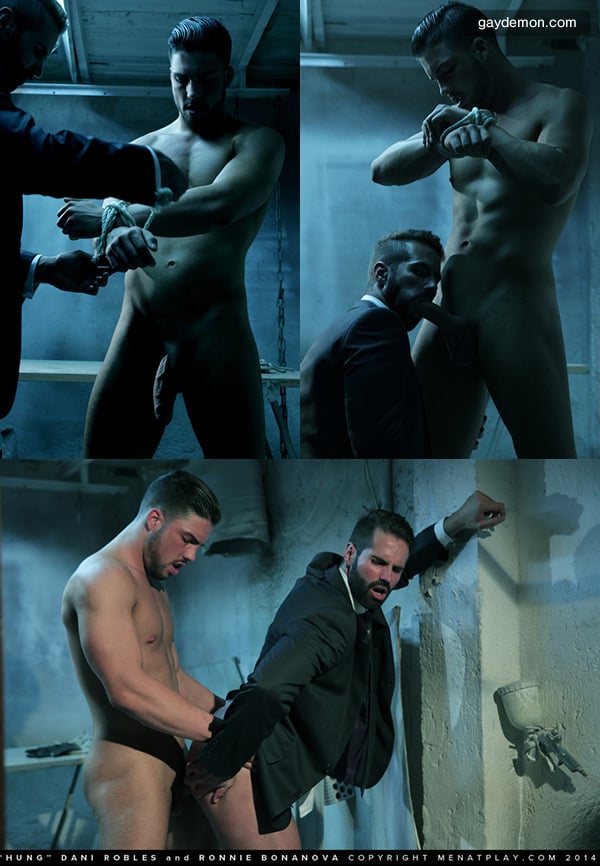 I don't know the story here, but when I see a naked muscle hunk with his hands tied above his head, I don't ask questions. Who would? Especially when you see his huge uncut cock hanging heavily between his legs, and holy foreskin overhang! Dani Robles doesn't ask any questions either. When he slides open the door in the first moments of Men at Play's "Hung," he walks in and fondles Ronnie Bonanova's ten inches, then he drops to his knees.
Bononova is a 21-year-old porn newcomer, probably from Spain; he's handsome and swings a humongous piece of meat. Unfortunately, he subscribes to the new fad of shaving every inch of his body (except his face), and I'd be happy if Dani took advantage of Bononova's bound hands and strapped his beefy ass for doing such a stupid thing to his body. But instead, Dani kneels and tries swallowing this hunk's mighty meat. Ronnie is very well endowed and thick, a little too big for Dani for completely swallow down his throat.
But Dani's ass has always proved very accommodating in the past, so he unties the hunk. Bononova pushs the executive against the wall and rips an access hole in the seat of Dani's trousers, then Ronnie pushes all 10 inches into Dani's quivering ass. And the Spaniard gives Dani a pounding he won't soon forget, nor would he want to. And before making his escape, Bononova unloads his nuts all over Dani's beard and lets the businessman lick his cummy cock clean.