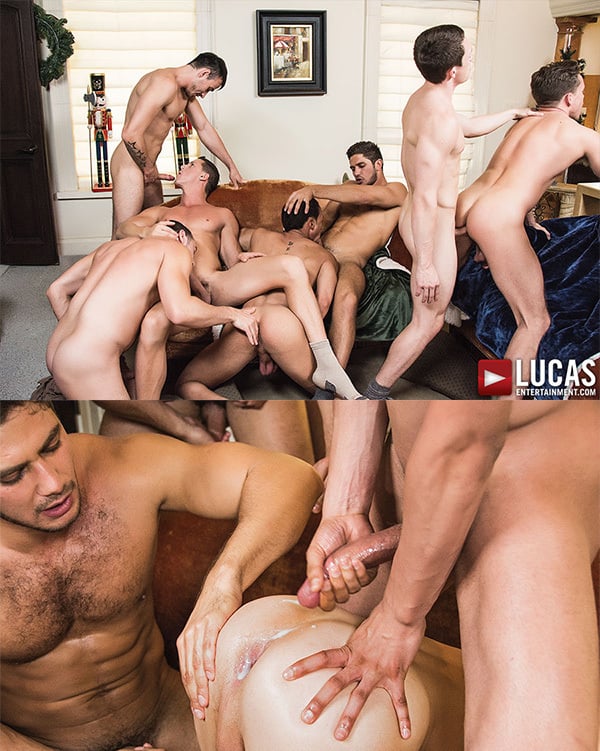 While a good part of the world was sleeping off their Christmas day pig out, Lucas Entertainment released the 7-man orgy they had been promising all month. On Boxing Day, Dato Foland and Nigel Banks walk in on Tanner Bradley riding Santiago Figueroa's big cock. Lucas Knight has just finished dumping his load in Tanner's hole, so he's recovering and watching. While Foland and Banks squeeze into the threeway on the couch, Donnie Dean and Ivan Gregory discover the fuck fest, and now five becomes seven.
Orgies are notoriously difficult to write up with the tangle of bodies and who is doing what to whom. And a blogger's job proves even more strenuous with so much cock-in-hole close-up action. In all the teasing scene write-ups, Lucas Entertainment has been saying, "Dato Foland gets a bareback orgy for Christmas." But when you see the cum finale, I think you'll agree that Ivan Gregory is the one getting the Christmas present.
Almost everyone in the room takes a crack at Ivan's ass and at least four of the guys spunk all over his hole. And while each guy takes his turn on Ivan's ass, the rest of them are lined up in front of his mouth so he can clean up their cummy cocks after they blow on his ass.
See more at Lucas Entertainment