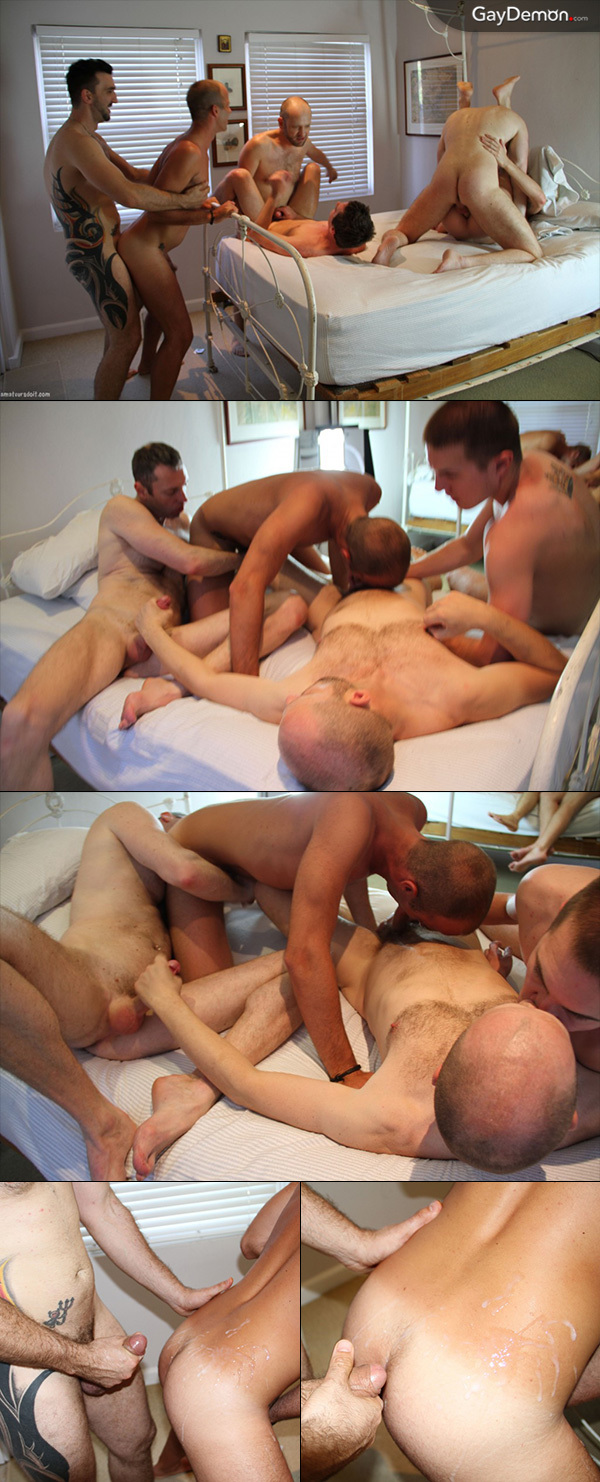 Orgies are fun, and I've been to more than a couple. And this one from Amateurs Do It has six Aussies in a pile on the couch. The thing I always liked about group sex scenes is that they're completely different than picking up guys at the bar or in a bath house. Even at the baths, where you'd think it'd be easy to get sex, a lot of times the guys at the tubs just circle around and around looking for the most perfect fuck of the night. I just want to suck your cock, I don't want to marry you.
But most of the sex parties that I've attended have had a completely different atmosphere -- the guys are there for sex and if you want to suck their cock, they're only too happy to stuff it down your throat. All of these guys have appeared on Amateurs Do It before and the site brought them in for a horny gang bang. The guys start off on the couch in their clothes, then they strip and start pairing off -- everyone seems to have their favourite.
After some dick sucking, the guys head into the bedroom for a group fuck on the bed. The guys pile onto the bed in a tangle of bodies and everyone's sucking a dick. But when it comes down to the fucking, the guys move back into their original pairings. While two guys fucking missionary style on the bed, another guy throws his legs in the air while his partner stands on the floor and screws him, and the final pairing sees a bottom bend over the bed while his hung tattooed pounds his ass. And it only gets hotter when the cum starts to fly and with six guys wanting to unload their nuts, there's a lot of spunk squirting.