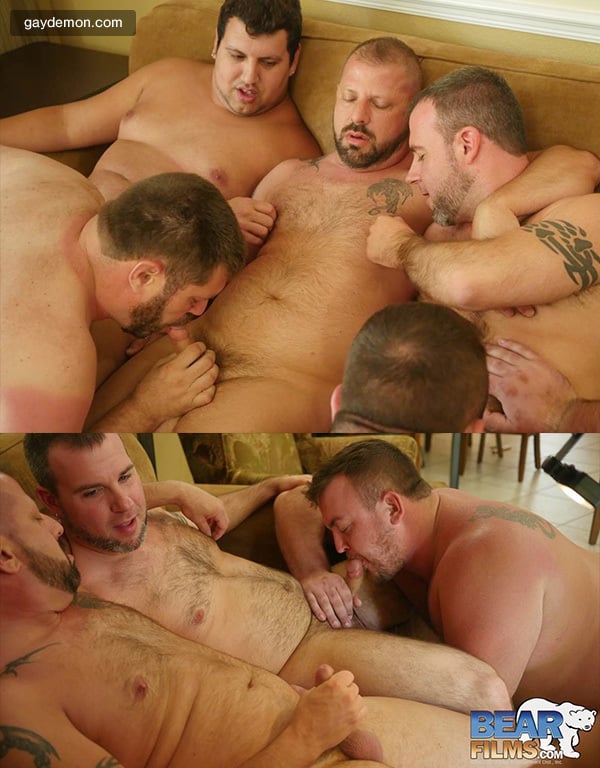 My partner and I used to throw sex parties in our apartment. This was a dozen years ago before we had apps like Grindr, back when Gay.com was the big place to chat and hook up with men. And those parties were a lot of fun because we'd invite a bunch of men over, sometimes as many as 20 or 30 -- there were 40 men at my 40th birthday orgy, which also happened to be our last -- and everyone was there to cram as much sex into a couple of hours as they could.
Sure, there was the odd picky princess who wouldn't let you near him unless you ticked off nine out of ten boxes on his check list, but most of the time, if you wanted to blow someone, you just dropped to your knees and swallowed his cock. This six-man orgy from Bear Films reminds me of those sex parties. Everyone gulping dick and having a good time.
This is a two-part video. The first part is all oral with five bear men sucking each other's cocks on the couch. A sixth bear enters about halfway through and joins in. Cooper Hill (the daddy with the tattoo on his left pec) and Rick Wolf (the cute cub with the bear tracks around his left arm) did a hot duo for Bear Films a couple of months ago and they end up side by side on the couch. I can still see the sparks flying between those two. I loved watching them curled up together getting blown at the same time. Man, orgies are fun. The second part of this Orlando bear party comes out tomorrow and I can't wait to see where this orgy goes.