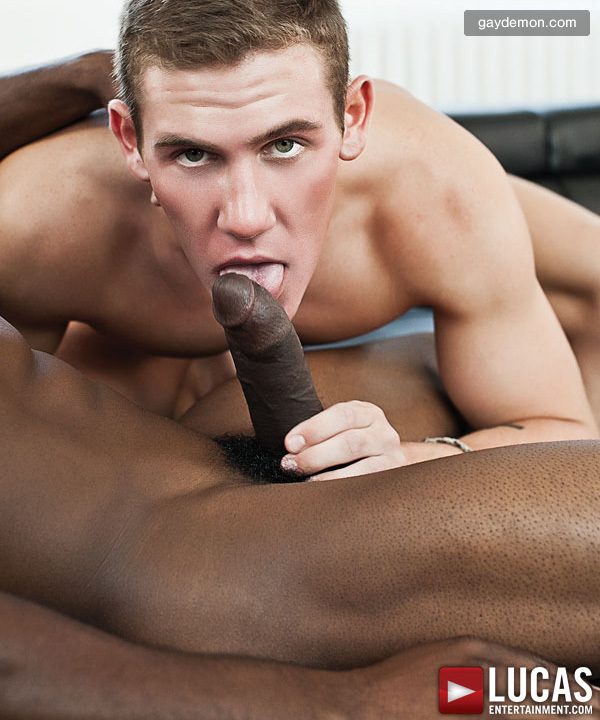 I'm not normally into blonds, but Brent Alex is so damned sexy. He's a handsome stud who loves taking it up the butt and some of my hottest bone-in-hand sessions lately have been watching him getting fucked. He seems to be the go-to bottom right now at Lucas Entertainment. I'm still watching his session with Cam Christou, you couldn't pay me to stop watching this one.
This week Brent has two huge dicks to take care of. Taye Knight and Lucas Knight sit back side by side and watch this cocksucker slobber over their dicks. He warms up on Taye's eight inches, then moves over to Lucas' niner. I can't wait to see those huge cocks sliding into Brent's beautiful pucker, so I fast forward to the fucking. Taye kneels behind Brent and tries inching his hard-on inside, Brent is really tight and Taye really has to push and fight to get it in.
Taye pumps Brent's hole for a couple of minutes, it's strenuous, then Brent's ass finally loosens up. Taye sighs deeply, then starts running his dirty mouth. Now that the tough work is done, he's enjoying Brent's ass. Lucas takes his turn, and that extra inch stretches Brent's hole even more.
But the cumshots are the fucking best. Brent lies back with his legs spread and Lucas and Taye aim their cocks at Brent's hole, which is still gaping a little bit. Lucas lets loose first and blasts his watery load all over Brent's hole, then Taye follows seconds later with a thick gushes of white spunk. And Lucas grabs his cock and shovels Taye's chunky load into Brent's pucker and the three exhausted men fall into a kissing pile.
See more at Lucas Entertainment