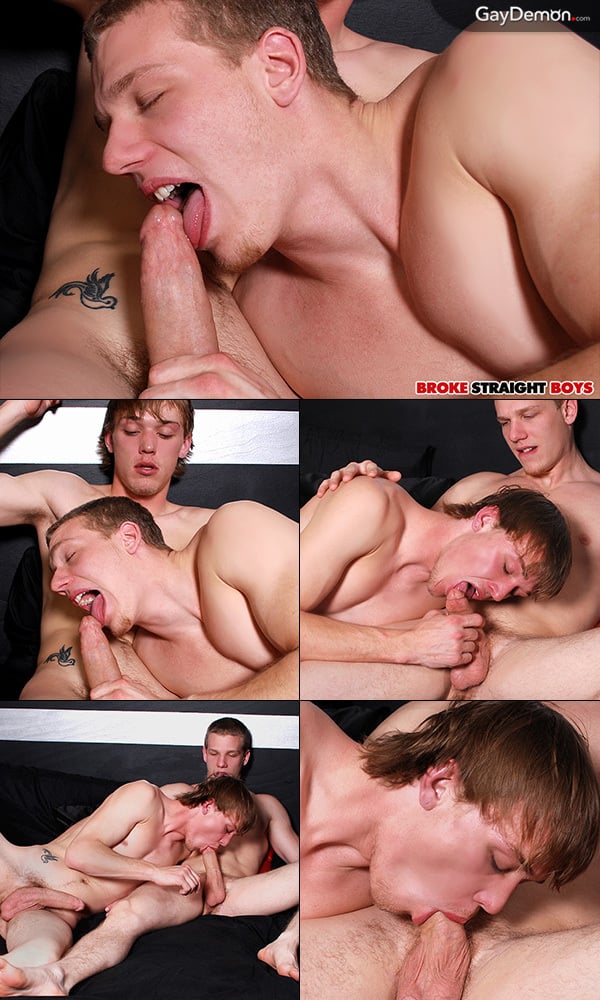 I love blond, straight stud Johnny Forza. He's cute and hung like the proverbial horse. But I've got to laugh because about a year ago he made his first jack-off video for Broke Straight Boys. "No way!" was his response when the site asked if he might let a guy suck his dick. A few weeks later, he was back getting his bone serviced, and since then he's filmed about 20 scenes where he does both top and bottom anal sex. I guess he's really broke because he's still talking about his girlfriend.
I never really know what to believe from gay porn sites when they present us with a guy and say that he's straight. In Forza's case, you can see that he's sucking Duncan Tyler's huge cock like it's the last time he's ever going to nut his balls. I'm 100% gay, never had sex with a woman; now if some porn site offered me a lot of cash to fuck a woman, I'd do it. I'd pop my Viagra and give good face like it was the best sex I've had in my entire life, but I'd still be gay -- wouldn't even call myself bisexual, maybe straight for pay. So I can see how Johnny Forza, and lots of other guys, say that it doesn't matter how many dicks they swallow, they're still straight.
Johnny is pretty hung himself, but when the producer says that they're probably going to arrange another session where Forza takes Duncan's monster meat up his hole. "I want to get paid twice because it's two dicks in one," Johnny demands. But for now, Johnny is dicking Duncan's ass. And while Duncan's supposed to be straight, too, he's down on all fours with his ass buried in the mattress and he's pulling his ass cheeks apart with his hands so Johnny can get his big pole deeper inside of him. Whatever they are, these two guys have a good hot fuck and Duncan blows his cum wad all over himself with Johnny's big dick buried up his ass.
See more at Broke Straight Boys