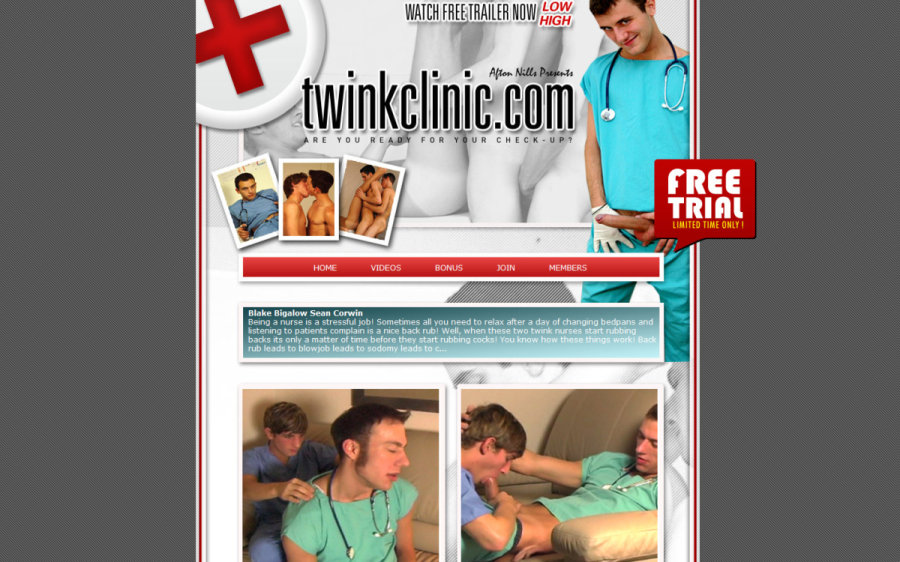 Twink Clinic is all about doctors or male nurses having sex with horny twinks in their exam rooms. Whether the patient suffers from stiffness, blue balls or a dry throat, the doctor always has the prefect remedy to relieve the pain. After a thorough inspection, the boys here always seem to have a problem with their cocks and balls so they need some special attention. In all cases, the doctor does some anal investigation, too.
The performers at Twink Clinic are slim 18 to 22 year old twink boys with smooth bodies. Some of the guys are well-known porn stars, such as Tory Mason, Mike Styles and Winter Vance. The twinks are engaged in hardcore duos and threesomes filled with loads of cock sucking and plenty of ass fucking.
Twink Clinic is dedicated to a sexual fantasy; it's not a medical fetish site. While it tries to simulate medical settings, fans of medical fetish content will probably feel disappointed as the studio fails to create a realistic setting. First of all, an 18 or 19 year old doctor isn't very realistic, although the orderlies and nurses are about the right age. An examination table won't turn a regular room into an exam room. However, if you don't really care about all of that and you enjoy seeing horny twinks in action with a physical exam twist, the content here is interesting and entertaining.
Twink Clinic is a small site that only offers 21 scenes which have been pulled from six DVDs. The newest scene was added over four years ago, so it's very unlikely that the site will grow any bigger in the future. Luckily the site is part of the Gay Star Network, which contains 16 gay sites and 1 bisexual site. Many of these are twink sites, so even though the site no longer updates, there's still a good amount of related content.
Videos can be downloaded in MP4 format in two different sizes, the larger one playing at 720x408 and a smaller mobile-optimized version playing at 320x180. Both the visuals and the sound are good amateur quality. The videos are free of DRM, which means the downloaded videos will still work after your membership has expired. For those who prefer to watch the videos online, there's a Flash-based player in which you can stream the scenes in MP4 format at about the same size as the larger downloadable videos or you can enlarge to full-screen if you want.
There a set of photos for every scene, and these are screen caps from the videos. Each set contains between 19 and 60 pictures, displayed at a size of 720x480. Unfortunately, some of the pictures are a bit blurry or dark. The site also offers six sets of average quality or better digital stills, one for each DVD title. There is a zip file that contains all the pictures from the set, which makes it easy to download them all together. There is no hands-free slideshow option, so you would need to browse through the pictures by hand.
On each episode page you will find a scene description and a link to the model pages. The model information is very basic, but it does show you all scenes in which a guy has appeared.
As mentioned, membership to Twink Clinic comes with access to the Gay Star Network, which hosts 1331 scenes from 271 DVDs in total. The network consists of 17 sites, of which most are twink and hunk sites, but it also has a bareback site, a daddy site and even a bisexual site.
There is one major issue here, and that's the fact that Twink Clinic hasn't been updated in over four years. Actually, it seems like none of the sites in this network have been updated in a while, although there are over 2000 videos to watch. Some words of warning about free trial membership that is mentioned on the join page; first, it costs $1 for processing. Also not only does a trial give you limited access, the trial recurs at $10 more than the cost of a regular monthly membership. The join page also contains a pre-checked offer that signs you up for a second membership to another site if left ticked.
If the thought of horny, slender twinks having sex in medical surroundings turns you on, Twink Clinic has some hot movies that you will appreciate. It's a small site and no new content is being added, but access to an entire network of sites gives full members access to over 2000 scenes. In my opinion, it's the network that gives you value for money but the twinks in this site are well worth watching. The bottom line - if you're looking for a good amount of gay porn, a variety of horny guys and hot action, not to mention twink sex at the doctor's office, I would suggest taking a look at Twink Clinic.
Click here to visit Twink Clinic
---
Bookmark and Share
---