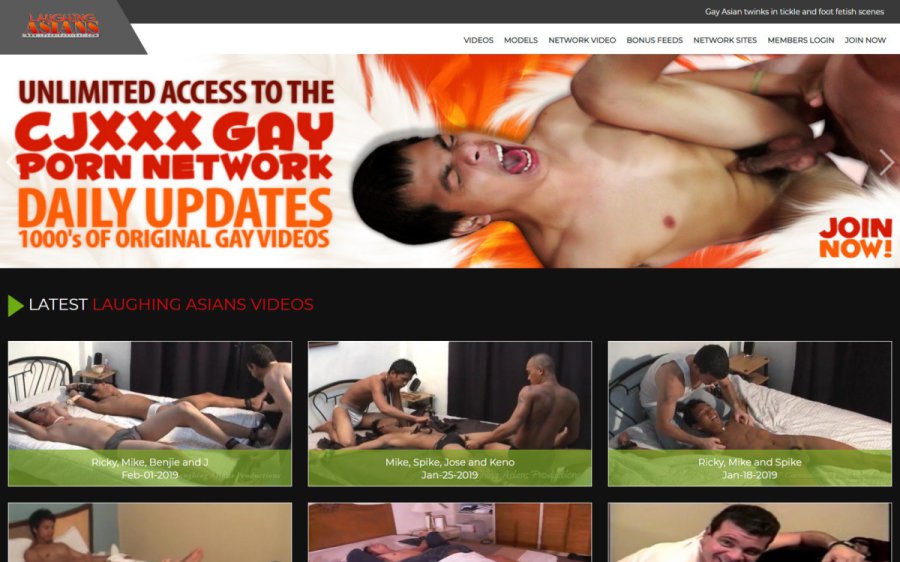 Laughing Asians focuses on an unusual niche - gay Asian tickling and foot fetish action. The performers are slender Asian twinks and amateurs, most from the Philippines, and there are some really cute guys here, but average ones, as well. Most have smooth chests but unshaven or trimmed pubic hair as well as hairy armpits, and many of the guys tend to be very ticklish. You'll also find some more mature or muscular guys, as well as some daddies, who tend to be the ones doing the tickling.
While tickling and foot play are the focus of the site, you'll also find some bondage as well as plenty of Asian cock and some hardcore gay sex. Many of the guys are bound to a bed, but others are held down and tickled while the guy being tickled laughs and squirms, helpless to escape. It's pretty hot even if you aren't into tickling, as there are plenty of naked Asian amateurs, but you'll have to be at least into submission or tickle torture as many of the videos offer nine or ten minutes of tickling. Often the scenes focus on what I like to call "tag-team tickling," where a couple guys go to tickle town on one helpless but eager victim. Or sometimes two guys are tickled together.
There's also plenty of foot worship, sometimes with threesomes or groups of guys, plus some cock sucking and fucking. There are also a number of recent doctor tickling videos where the "patient" is strapped to an exam video and his feet and body are tickled as therapy. And by the way, often the guys being tickled - and sometimes their ticklers - are wearing nothing but underwear or even at some point are totally naked with their cocks on display.
Laughing Asians offers 441 exclusive, DRM-free videos in MP4 format. Downloads are sized at either 1920x1080 at good amateur quality plus a smaller size for mobile or 540x360 or 480x320 at amateur or average quality, also with a smaller size. The videos can also be streamed in two resolutions, although the ones that are offered for download at the smaller sizes don't enlarge to full screen very well. Some videos are full scenes, while others are part of a scene, each part being used as a separate update.
The site also offers 399 picture sets. These sets contain screencaps, but most look pretty good for screencaps, offered at at good amateur quality - most are colorful, sharp and clear. Some pics are sized at 1920x1080 (slightly less sharp than the smaller sizes), others at 800x450 and some at 480x320, and even these look pretty good. There are downloadable zip files and you can also download individual pictures, but there are no slideshows or pic-to-pic navigation.
Laughing Asians members get access to 34 bonus sites from the same network. Nine of these bonus sites feature Asian guys, often twinks or amateurs, including Asia Boy, Gay Asian Twinkz and Daddy's Asians. Some are themed in a variety of fetishes including Gay Asian Piss, Gay Asian Uniforms and Doctor Twink, which offers Asian twinks having sex in exam rooms, sometimes with "doctors." There are also a fair number of Asian guys to be found inside Twinky Feet. Other niches include barebacking, Latin hunks, amateur guys, Euro twinks, and there's more. Plus members get access to 63 feeds in a wide variety of niches and a gay video collection offering over 1,000 scenes from older DVDs.
The first issue I want to talk about regards updates. On my last visit to the site, I said I believed the updates were being recycled, which means taking older updates, re-dating them with a newer date, and adding them back in as if they were new. That has been confirmed in two ways. First, the site hasn't grown and second - and more telling - the latest updates (it's February 7, 2019) are smaller and blurry and they're dated 2008 in the watermark. Since there are over 400 videos, there's plenty to keep you busy even before the bonuses, but don't expect the site itself to add anything new.
There are some more downsides to be aware of. First, the non-recurring month membership costs $20 more than the recurring monthly membership, and since you can cancel the recurring membership any time, I can't see a reason to spend more for the non-recurring membership. By the way, the prices aren't shown on the join page, so you wouldn't know how much more one membership costs than another unless you go to the billing pages for both memberships. The network and its sites aren't very attractive, and there are no features like clickable tags, a model index, a category list, or the ability to sort content by date added, most popular, highest rated, etc.
Laughing Asians is an interesting site whether you're into Asian guys, tickling and foot fetish action or are simply curious. The site delivers 441 videos to download, stream, and watch on your mobile, and while dates show weekly updates, updates are actually recycled. The models are smooth, including a variety of Asian twinks and amateurs who are held down and tickled or their feet worshiped - sometimes they stroke or suck each other and fuck. There are also plenty of bonus sites and feeds for those looking for more gay porn, although this is the only tickling site. Whether you're into tickling and foot fetish play or simply like Asian guys, Laughing Asians is worth a look.
Click here to visit Laughing Asians
---
Bookmark and Share
---