---
Videos

4 stars

Pictures

4 stars

Unique

4 stars

Size

4 stars
4 stars

Cost

3 stars

Updates

4 stars

Usability

3 stars

Claims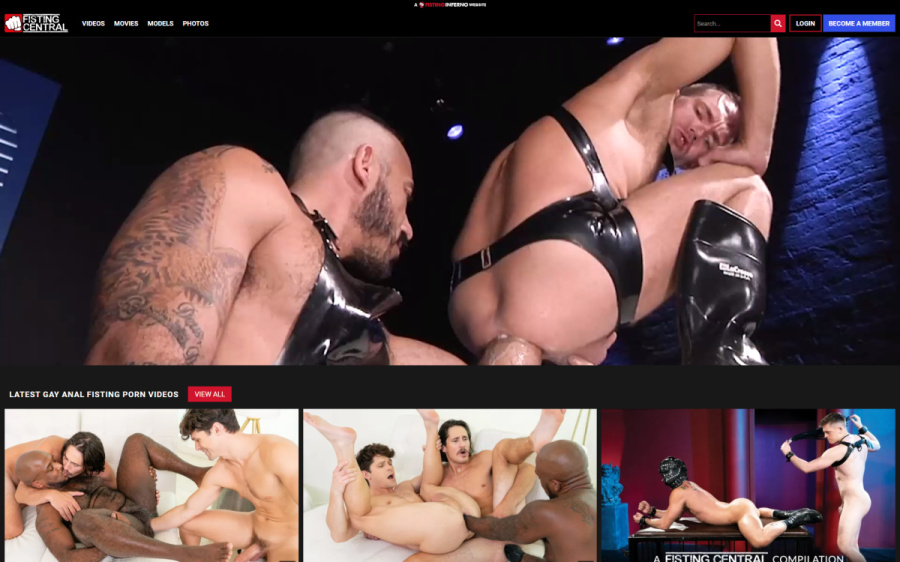 Click here to visit Fisting Central
Introduction to fistingcentral.com
Fisting Central features deep, over-the-wrist handballing sessions and extreme ass play. Masculine men in leather, muscle hunks, and hot porn stars in fisting videos with gaping holes and rosebuds in 327 exclusive videos to download, stream, and watch on your mobiles. Now part of an extreme ass play network with over 1,200 videos from several studios.
Since Last Review
Site has added 52 videos in 32 months
Yearly membership dropped $20
Gallery slideshow feature removed
17 third-party plugins have been removed
Video info
Videos offered for download and streaming
327 exclusive videos in MP4 format. Newer downloads offered at 1920x1080 at good quality plus 6 smaller sizes, and newest also have a 4K version at 3840x2160; oldest offered in 4 sizes up to 720x480 at average quality. Streaming, mobile compatible videos also available.
Picture info
327 picture sets. Newer sets contain good quality digital stills sized at 1280x1920. Oldest pics are average quality screencaps. Zip files available, pics can be individually downloaded. Slideshow feature no longer available.
Bonus content
Access to 950 bonus videos from Fetish Inferno network of 5 additional channels. Free blog.
Site issues
Pre-checked offer (called a cross sale) on right side of billing page. Trial members can only stream the videos, not download them. You are automatically signed up to receive emails when you join with no way to opt out at that time. Notification pop-up on tour. Pop-up with fake rep on it when you exit on join page.
Membership cost of Fisting Central
Trial membership only gives you limited access. There are pre-checked options on signup page. If left checked, you will automatically be subscribed to another site.
Trial: $1.00 (3 days, recurring at $29.95 monthly)
Monthly: $14.95 (recurring every 30 days at $29.95)
Quarterly: $49.95 (recurring at $55.95 every 90 days)
Yearly: $99.95 (recurring every 12 months at $119.40)
Fisting Central Review
Fisting Central has been one of the premiere destinations for fisting fans for many years. The site focuses on masculine men, hairy daddies, tattooed studs, muscle men, and some college-aged guys with athletic bodies. The videos include fisting and extreme ass play with monster-sized dildos. It's been over a while since we reviewed the site, so it's time to head back for an update.
Fisting Central was originally produced by Raging Stallion Studios; rival producer Hot House also had a fisting brand called Club Inferno. Then in 2011, Raging Stallion and Falcon Studios merged, and they acquired Hot House shortly after that. In 2020, the company created a brand new network called Fisting Inferno that features all of the ass play content from both Fisting Central and Club Inferno, along with various other things that we'll talk about later. So while both sites still maintain their own identities, when you join either of them you're really joining Fisting Inferno.
Recent scenes from Fisting Central feature hunky porn stars like Devin Franco, Dominic Pacifico, Brian Bonds, Max Adonis, Teddy Bryce, Micah Martinez, Apollo Fates, Drew Sebastian, and more, so there's a variety of men from jocks and athletic guys to hairy daddies and muscle hunks. There are also a good number of men of color. And with content from all the way back to 2001, you'll find the biggest and best gay porn stars from years gone by including Spencer Reed, Josh West, Matthieu Paris, Ricky Sinz, Steve Cruz, Jake Deckard, and heaps of others.
The site features men in handballing action, but it's not just fisting; these bottoms like getting their holes stretched with giant dildos and butt plugs, too. One of the most recent videos features bottom Devin Franco getting fucked with dildo machine while he sucks two cocks. Most of the action happens in duos, but sometimes one top takes care of two bottoms at the same time or two tops spit-roast a hungry bottom. The action happens in dungeon or playrooms, locker rooms, offices, simulated back alleys, and there's scenes set in the back of a van. The men often wear leather gear like harnesses, jockstraps, and boots, but sometimes they start off in regular street clothes or just their underwear or jockstraps. And three of the latest updates have naked guys getting fisted deeply in the back of a van that's driving around the city. You can actually see the cars outside the van through the windows as big, masculine fists are shoved into lubed-up asses.
Fisting Central offers members 327 exclusive videos in MP4 format. The newer downloads are available in seven good quality sizes: two large ones at 1920x1080 and 1280x720 plus five smaller versions, any of which would be good for mobiles, and t e very newest scenes also have a 4K version sized at 3840x2160. Older scenes are only available in four smaller sizes from 320x178 to 720x480, and because these were filmed any time over the past 20 years ago or so, the quality varies with many not as crisp as the newest ones. The videos can also be streamed in an adaptive player with up to six resolution, and they resize to fit your device. There's  a full-screen option, but the oldest vids don't hold up as well as the newer ones. If you prefer to watch videos on your phone or other mobiles, the site is fully compatible, so you shouldn't have any problem.
Each video comes with a photo set which appears on the episode's page, but they're also included in a standalone Photos section where you'll find 2,018 galleries in total from all the network sites. The newer sets contain good quality digital stills displaying at 1280x1920. They are a mix of glamour shots of the men and some previews of the action, and the pictures are professionally lit and shot. You can save the photos individually or download a whole set in a downloadable zip file. The sets are on the small side, usually offering between four and fifteen pics each, but the pics are well-chosen. The oldest episodes come with average quality screencaps sized at 720x480. There's no slideshow feature, but you can navigate the pictures with forward and back controls.
Members now get full access to the Fisting Inferno network of 1,277 videos: Club Inferno, which features 499 fisting videos. Fetish Force has 258 rough sex and fetish action videos, Plain Wrapped with 97 dildo fucking videos, Hole Busters with 54 more dildo action videos, Dungeon Live with 12 videos, and the remaining 327 videos are from FistingCentral. A final note on Fetish Force is that you can expect a lot more than ass play - you'll find men in kinky scenarios playing with corporal punishment, dirty talk, spitting, domination, sounding, and forced sex. The network also includes a link to the Falcon Studio Group blog, which is free anyway, but it's fun reading the interviews and learning about your favorite porn stars. There were 17 third-party video feeds here on our last visit, but these have been removed.
As far as FistingCentral updates are concerned, they takes a bit of explaining. The Fisting Inferno members area added five videos in August 2023, three from Club Inferno Dungeon and two from Fetish Force, but there were no Fisting Central updates. There were two Fisting Central updates in July, one in June, and two in May, which appear to be new updates, but previous updates in February, March and April are compilation videos, which are parts taken from multiple existing videos. So essentially the network adds four or five videos monthly, but who produced them is up in the air. For instance, in July there were two Fisting Central updates, but only one from each of Club Inferno Dungeon and Fetish Force.
There are a few issues to talk about. First, there's a pre-checked offer on the billing page, but it's easy enough to uncheck if you're not interested. Next, trial members can only stream the videos. Also, when exiting the join page without completing the sign-up, you may get a pop-up. When joining, you're automatically signed up to receive emails with no way to opt out at that time. The join page says the site offers "Unlimited HD Streaming", but only the newer come in HD. And last, there's a notification pop-up on the tour, and allowing this means notifications could appear in your browser at any time, not ideal if you're sharing your computer. I almost always block them.
Fisting Central offers extreme penetration, deep fist fucking and heavy hole stretching in 327 exclusive videos. If you like ass play and handballing, you should be happy here, as you'll find porn stars in leather, kink, and there's plenty of fisting and huge dildo action. The site offers members access to the entire Fisting Inferno network of 1,277 videos to download, stream and watch on your mobiles. The network updates four or five times a month, but there's not always a Fisting Central release; however you'll get new scenes from Club Inferno Dungeon and Fetish Force, as well. The men at FistingCentral are fucking hot and so is the action, and watching them will very likely get your inner pervert on his knees begging for more.
Things we liked
Exclusive content
Masculine men, hunky gay porn stars
Fisting, ass-stretching and kink
Videos are downloadable
Site and videos are mobile compatible
Access to fisting/kink network
Things we disliked
Some updates are compilations
Site's own updates are irregular
Older videos not offered in HD
FistingCentral Screenshots