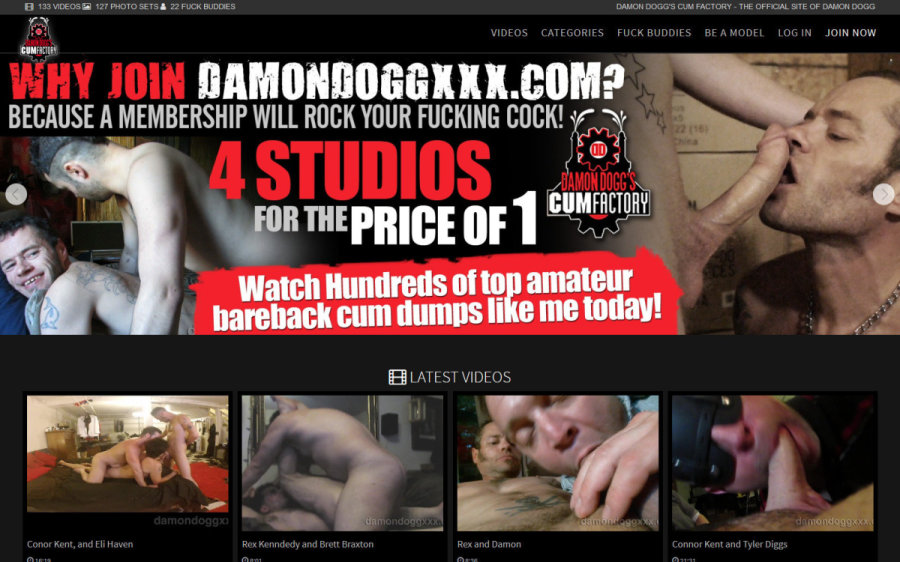 If you're a bareback lover, chances are you're familiar with Damon Dogg from his work with Treasure Island Media. He's a real sex pig and true cum slut who just can't get enough, and Damon Dogg XXX (also known as Damon Dogg's Cum Factory) is where you'll find his exclusive videos. He says he's always ready to get fucked, whether in a restroom, alley, seedy motel, bar or just about anywhere. Here we can watch him as he sucks and gets fucked by friends, strangers or even his husband, Jesse O'Toole (in a threeway with porn star Nick Moretti).
Damon himself is a bit on the rough side with close-cut hair and face scruff as well as plenty of tattoos and a lean, ripped body. He claims to love all sorts of men, and I see heavily-tattooed bad boys, a balding daddy and regular guy types getting sucked and pounding Damon's hole, the harder the better. It's obvious from watching that Damon loves getting fucked, and says it feels good to have someone shoot a load of cum in his ass. All the sessions here are condom-free, and you'll find barebacking, spit roasting, guys slobbering on dick, cock riding and internal cumshots - in one scene, Damon gets DP'ed as two men penetrate his ass together. And there are also a couple solos including Damon jerking off on a bus.
Damon Dog XXX offers 133 exclusive videos in MP4 format. The newer videos are sized at around 1280x720 plus there's a smaller size at about 480x270. The newer videos are mostly average to good amateur quality, but sometimes there are lighting issues and in one video I watched, it was shot with a fisheye lens that gave the guys a sort of rounder appearance. The older videos are sized at 640x480 plus a smaller size, and these are amateur to average quality for the most part. All the smaller videos and the 640x480 videos will play on most mobiles, and the 1280x720 vids will play on newer phones and tablets. There are also good sized streaming versions, although some videos fare better at full screen than others.
Each video comes with a set of pics. Some are average to fairly good quality screencaps while others are amateur to good amateur quality digital stills; in some galleries, they seem to be a mix of both. The pics are offered at 1280x720, and quality ranges from okay to good amateur. There are usually six to 12 preview pics from each gallery on the video page or you can click to see the entire set by clicking PHOTOS on the right side of each vid's page. On the full gallery pages you can find a link to the slideshow and zip files or you can just save the individual photos you like.
Damon Dogg XXX members get access to all the sites in the FetishMales network. These include Dudes Raw, Cum Pig Men and Desperate Straight Guys, and together these three sites offer 1,190 videos in addition to the Damon Dogg videos. Lately the network has been adding nine new videos each month.
Now let's talk about issues. First, Damon Dogg XXX no longer updates. Next is the pre-checked offer on the billing page that, if left checked, will sign you up for a membership to a second site when you join this one. While there is a model index, it's for the entire network - there's no way to list only the performers from Damon Dogg XXX. Also there are no model profiles, and you can't sort the models by rating or popularity, only by date and alphabetically. There's also a large translucent watermark on the videos, and a large non-translucent watermark on the pics, as well.
There's a maximum of five simultaneous downloads to avoid the use of download managers, which seems reasonable enough, and members are limited to 40 gig of downloads every 24 hours. I downloaded several videos, and they only added up to a gig, so I don't think that 40 gig is going to be a problem, but some of the other sites may have larger videos. Here's something worth noting, though - if you do go over the 40 gig, unlike other sites you will need to open a support ticket to get access to your account again, which hints that the 40 gig limit also applies to streaming videos, not just downloads.
One last thing I wanted to mention is that there's a feed version of this site, so you may have seen some of the content in the member area of other sites. The feed version of the site usually has a lot less of the content, but you may have seen some of it elsewhere.
Damon Dogg XXX delivers plenty of barebacking, internal cumshots, facial cumshots, some threeways and a few jackoff sessions. Damon himself is an eager pig bottom who can't get enough cock, and he and his partners seem to be having a great time fucking and sucking on camera. The site offers 133 downloadable videos to download and stream on your desktop and mobile but no longer produces new content. Luckily members get access to three bonus sites from the same network including two focusing on raw sex. Whether you're a fan of Damon Dogg or just love raw, cum-dripping gay sex, Damon Dogg XXX is worth a visit as the tour previews all the guys and the action.
Click here to visit Damon Dogg XXX
---
Bookmark and Share
---