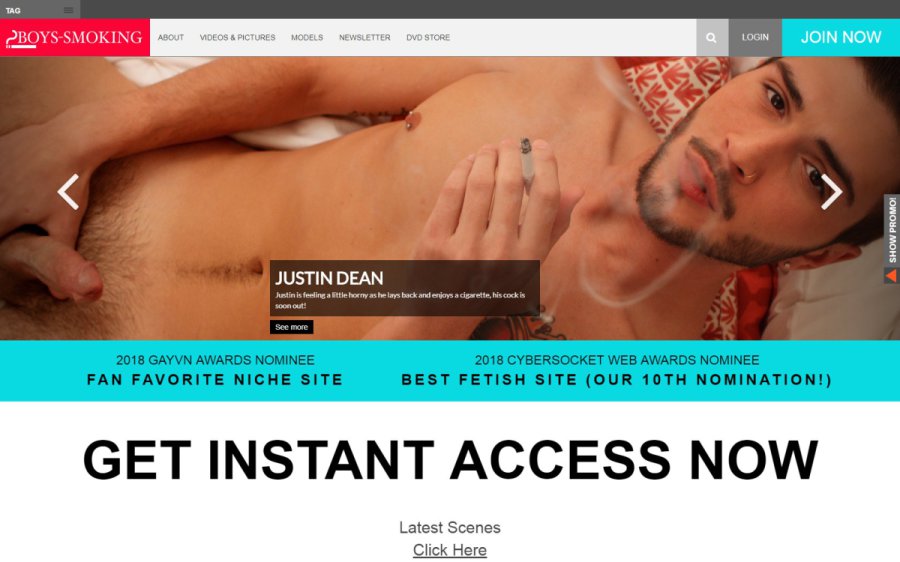 Boys Smoking launched over ten years ago, and focuses on twinks and jocks in solo and hardcore videos. The main focus here is 18 to 26 year old boys smoking cigarettes, which makes this one of the few gay smoking fetish sites around. While I know there are a lot of smoking fans out there, there aren't many sites entirely devoted to smoking and sex. The site offers a good mix of good-looking amateurs and porn stars, and I bet you'll recognize some very familiar faces including Alexander Greene, JD Phoenix, Jeremiah Johnson and Marcus Mojo getting his start in porn. Most of the guys are smooth and clean-looking, but there are some with tattoos or face scruff, as well. Almost all of the models are fit and quite a few of them have big dicks, always a plus.
You'll find horny twinks and jocks playing with their cocks, getting hard as they inhale creamy white smoke and jerking off while they enjoy their cigarettes. There are some guys stuffing their asses with toys or pumping Fleshjacks with their dicks while smoking, too. The hardcore videos are duos, threesomes and a couple foursomes where at least one of the guys is puffing a cigarette during plenty of cock sucking, rimming and ass fucking. The action and the performers are hot, and the guys obviously love to smoke. Btw, some of the guys who've appeared on the site for a while have never vids where they appear in their mid to late twenties.
Boys Smoking currently offers 283 exclusive, DRM-free videos. Some of the recent videos are offered at 1920x1080 plus three smaller sizes, and these are good amateur quality or even better with the two smallest sizes good for most mobiles. The rest of the videos, including some of the newer ones, are offered in two sizes at average quality or better, the larger playing at 640x480, which should play on most mobiles and the smaller good for older mobiles. Streaming videos are available in the same format (MP4) and at the same resolutions. The streaming vids play smoothly and can be enlarged to full screen, although the newer ones fare better than the older.
There are 666 picture sets - 383 sets of digital stills and 283 sets of screencaps (one for each video). There are digital stills sized at 1000x1500 at good amateur quality or better while others are 567x850 or even smaller at 467x700. You can save individual images or download sets altogether in zip files; while there's no hands-free slideshows, it's easy to browse from one photo to the next. The screencaps are shown at 640x360 or 640x480, which is on the small side while others are sized at 1000x563, and they're decent quality.
Full members of Boys Smoking get access to content from three additional sites in the same network: BoyNapped (984 scenes), University Crush (49 scenes) and one site that no longer update called Boys on the Prowl (45 scenes). Altogether these sites offer 1,078 bonus videos, the greatest number of which come from BoyNapped, a twink BDSM site that continues to update twice a week; University Crush updates infrequently.
Now let's talk about updates, because there's a lot to talk about. The site doesn't use dates for the more recent updates; instead you'll find episodes listed by "1 week ago", "3 weeks ago", "2 months ago" and so on. That being said, there are only 17 more videos than there were two years ago, and since they claim up update twice a month, there should have been 104 more videos. This is one of the reasons that I believe at least some of the videos are being recycled. Another reason is that some of the newer videos are as small as the older videos and the quality isn't as good as the HD videos. Last, I found a couple twink stars looking as boyish and cute was they looked years ago. Ayden James has a video added five months ago where he looks the same age as he looks in a video from almost eight years ago, and he's appeared on the site for almost 14 years, yet he's still a 22 year old twink in his latest updates.
There are some other issues, as well. First is the pre-checked offer on the right side of the billing page; if left checked, it will add a second site membership when you join Boys Smoking. Next, the trial memberships give only limited access to the site's content, although the nature of these limitations aren't specified. Also trial memberships recur at $15 more per month than the regular monthly membership. Also as I scrolled down the tour page, I got a popup asking me to sign up for the site email list. On the guys' profiles, the age doesn't change over time. Ayden James, for example, first appeared in the site in 2005, yet he's still listed as being 22 years old. Last are the tour claims. Virtually every claim on the join page refer to the network, not this particular site.
Smoking Boys delivers cute twinks and horny jocks including some well-known porn stars from a few years ago including Jeremiah Johnson, Ayden James, Mike Roberts and Jimmy Pats in smoking fetish / masturbation / gay sex videos. There are 283 exclusive videos to download, stream and watch on your mobile; there are also 383 standalone photo sets. While the site may be recycling updates, full members get access to three twink bonus sites which offer 1,078 more videos. The guys at Smoking Boys are sexy, smooth and good looking, and there's always a focus on guys smoking cigarettes while jerking off, sucking dick or getting fucked. If you like sexy twinks and college-aged guys in smoking hot action (pun intended), then Smoking Boys is definitely worth a visit.
Click here to visit Boys Smoking
---
Bookmark and Share
---