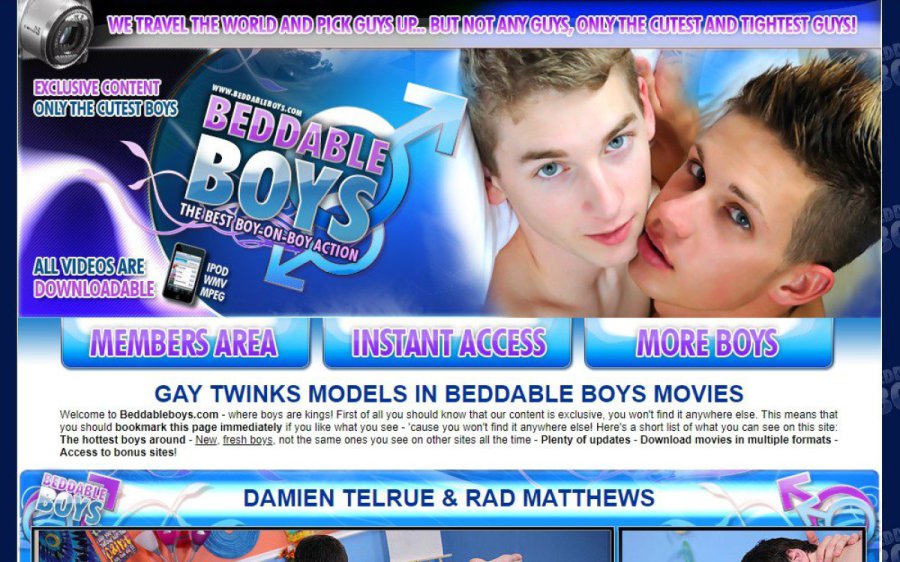 Beddable Boys review updated on 4 Jan 2019
Beddable Boys says they feature the cutest boys, and many of their twinks are certainly eye candy. There's a variety of types from clean-cut boys next door to punky guys with edgy hairstyles. Expect 18 to 24 year olds with smooth, slender bodies - there are also some lean, athletic college-age jocks. Twink lovers will find familiar faces here including Preston Andrews, Kayden Daniels, Patrick Kennedy, and the Supertwinks (remember them?), Kyros Christian and Dillon Samuels. Some of the performers sport tattoos, others are a bit scruffy, and some of the latest models include some well-built jocks with a little more muscle than the twinks on the site.
While the site does have some solo jack-off sessions, most of the action here is hardcore and varied. There are twink duos and threesomes, as well as a few larger groups; you'll find lots of 18- and 19-year-old boys sucking cock, giving handjobs, fucking in a variety of positions, kissing, and rimming. There's also some kinkier stuff, from two performers sharing a double-ended dildo to dungeon action, medical exams that turn to sex in the exam room, and getting fucked in a leather sling. Expect a variety of locations, too - there's studio action, outdoor sex, shower sessions, and more. The 12 latest videos offer seven duos, two threesomes, and three solos.
Beddable Boys now offers 330 exclusive videos in MP4 format. The newest and some of the older videos are offered in full HD at 1920x1080 plus three smaller sizes, and these are good quality and the two largest sizes go full screen well while the smaller are good for most mobiles. Other videos are sized at 640x480 plus one smaller size at average quality, so both sides work for mobiles. And for those who prefer to stream their videos, the site offers each video in between two and four qualities of MP4.
Each video comes with a set of pics. Most of the sets contain screencaps, but in many cases they're pretty good quality for screencaps. Many are sized at around 640x480 at average quality, but the ones that come with the HD videos are sized at 1000x667 at good amateur quality. And a few videos come with good quality digital stills instead of screencaps. The picture sets are a great way to preview the videos, and if you find sets you like, the pics can be downloaded as zip files or individually. While slideshows aren't available, you can navigate from picture to picture easily.
Beddable Boys members get access to the Gay Life Network, which offers 17 bonus sites and video collections, and not only are most of the sites twink-themed, but some share some of the same models who appear in Beddable Boys. All in all, the network offers 2,361 videos, and there have been eight updates in the past month. Only one of the sites, Undie Twinks, is currently updating weekly, but Lollipop Twinks and Teach Twinks are updating once to twice a month; none of the other sites or collections have updated in the past two months. By the way, there are also 320 video interviews with the network models, although these don't update. In the right corner of the pages you'll find a link that gives limited access to seven additional gay porn networks, most offering at least two videos.
Now let's talk issues. First is that Beddable Boys hasn't added any content since August 30, 2018, although it's possible they'll start updating again, for now don't expect new updates. There are two pre-checked offers on the billing page that, if left checked, will sign you up for two more sites when you join this site. Trial members get limited access, and can only view eight to 10 videos, probably the most recent network updates. Most of the network sites and collections no longer update, and others update less than once a week. Some of the videos, particularly the Gay Life Network fantasies and interviews and the Hollywood 201 vid, are only a minute each. Last, there's a large ad that contains a video trailer on the top of every single page and two rows of animated thumbs at the page bottoms that are actually an ad for a live cam site.
Beddable Boys delivers a mix of cute, horny twinks, and college-age jocks in hot hardcore and solo action. There are 330 DRM-free downloadable videos to download, stream and watch on your mobiles, and each vid comes with pics. Some of the movies are available in HD while others aren't, and while the site no longer updates, the network adds seven to eight more twink videos and pics per month. I think twink and jock fans will like what Beddable Boys has to offer - horny 18 to 24 year olds in variety of sucking and fucking, as well as some threesomes and fetish action.
Click here to visit Beddable Boys
---
Bookmark and Share
---