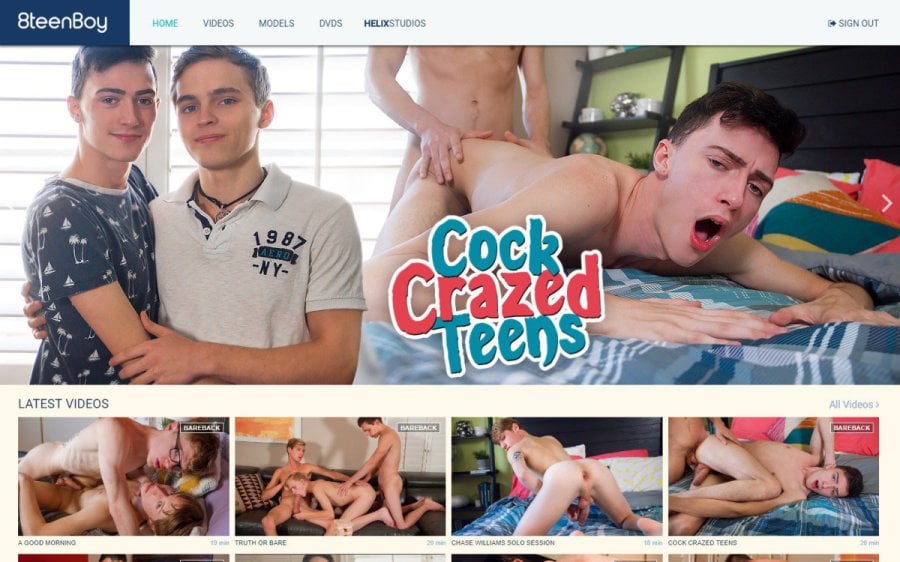 8teenBoy is a site produced by Helix Studios, one of the biggest studios offering high-quality twink porn, and 8teenBoy is following very nicely in big brother's footsteps. Most of the guys here are 18 and 19 years old, sporting smooth and slender bodies, and they're also boyishly cute with clean-shaven faces. Most of these twinks keep their pubes trimmed or completely shaved, and their balls and butt holes are also generally smooth, although there are a couple of exceptions. Cock sizes vary - I found some that quite impressive, and overall I'd say twink lovers are really going to like the models here. It's also worth mentioning that the guys here all hail from the U.S., and there's a good selection of videos here to keep twink lovers happy.
Bryce Foster is an 18-year-old, blond boy, very cute, and he appears in seven videos. He's very slim and fair, says he's versatile, and he's got a good-sized dick. Jared Scott is one of the 19-year-olds, and he looks a little more mature than Bryce. He's tall, standing 6'3" - he's also slim and he's packing a big cock, so I'm happy to see that he's a top. Each of the guys on the site has a profile page with anywhere from two to five items including things like his age, weight, height, and "sexual role" as well as a line or two about where he's from, his hobbies, and his major or what he does for a living.
Much of the action here are duos with the guys sucking and fucking bareback, although there are some threesomes as well as a five-twink orgy. There's lots of passion with plenty of kissing and fondling, then the guys move into sucking, rimming, and fucking before dousing each other with their cum loads. Just a handful of the site's videos are solos. Helix Studios' Max Carter is a well-known performer and he's one of the directors on 8teenBoy; he introduces us to many of the guys in their solos. He talks to them for a bit before letting them pleasure themselves, and he occasionally reaches in for a grope or he slides his finger deep inside the guy's asshole while he's stroking. He's not too intrusive, but he does get in very close with his camera.
8teenBoy offers 727 videos, over 120 of them specific to the site, that are available to download and stream in MP4 format. The downloads are sized at 1920x1080 plus two smaller sizes that should play fine on most mobiles, and there are also good-sized streaming videos in a player sized at 1200x676 and offered in six bitrates. Video quality varies; the newer videos are good amtaeur quality, and they enlarge to full screen well; the older videos were shot much smaller originally and were upsized, so quality isn't the best, and these don't fare well when enlarged.
Each of 8teenBoy scenes comes with a set of good quality digital stills sized at 1000x1500. They're displayed in a mosaic instead of traditional thumbnail galleries, and each can be enlarged and saved individually if you like or you can save entire sets in zip files. While there are forward and back controls once you enlarge a picture, there's no hands-free slideshow.
In addition to the site's own content, over 550 of the videos were added not that long ago visit. These are mostly older scenes from Helix Studios as well as a few from Spank This. Like the site's own videos, these feature horny twinks in hardcore action and some solos, so adding these videos gave members a lot more from the same company to enjoy, although the oldest vids aren't as good as the newer ones, and the Helix videos don't include photos.
Now let's talk about updates. Although the scenes aren't dated, there have been 41 added in about five months, so it appears the site is continuing to update twice a week, but there's no way to know how regularly the updates are added as the episodes aren't dated.
Are there any issues? There's a pre-checked offer on the billing page that, if left checked, will sign you up for a trial membership to Helix Studios, but this is easy enough to uncheck if you're not interested. There's more advertising in the members area than was there previously. There's a row of thumbs on the page bottoms that could be mistaken for content, but these actually lead to a live cam site where you must pay for action. The member home page has two rows of large DVD covers that lead offsite to a store. There's a link to Helix on the navigation bar as well as links to their latest content, but I don't think members get access to Helix since it's the pre-checked offer on the billing page. Last, when joining the site you automatically give them permission to send you emails, and there's no way to opt out when first signing up.
8teenBoy offers a line-up of very cute all-American 18 and 19 year old twinks. They're boyish and slim with smooth bodies and hard cocks. Most of the action is hardcore suck and fuck and it's all bareback, although they seem to be adding a solo video around once a month. There are 727 videos, 120+ from 18teenBoy and the rest from Helix, and these can be downloaded, streamed and watched on your mobiles. The site averages two updates per week, although there are no dates to show exactly when updates are added. The quality and production values of the site's own content is good; this isn't amateur stuff – Helix Studios is well known for creating top-notch productions. If you love horny all-American twinks, I recommend you check out 8teenBoy for yourself.
---
Bookmark and Share
---