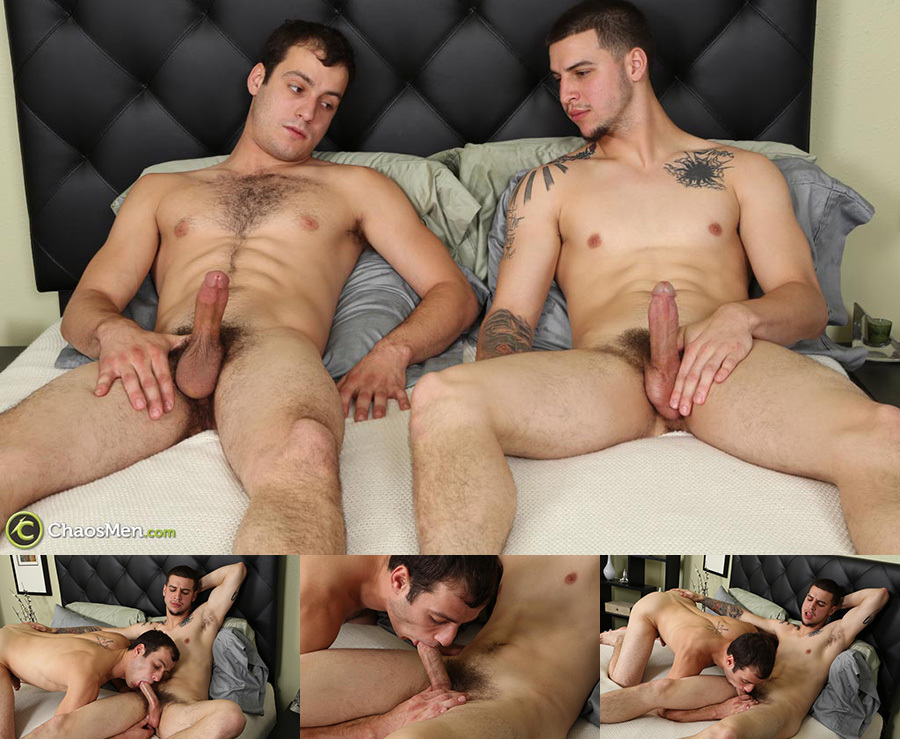 I'm an old-school gay man who generally thinks that if you've got a dick in your mouth or ass, then you're gay or bisexual, or at the very least, one of the Q's (questioning or queer) in the LGBTTIQQ2SA moniker the PC's have given us. But apparently Millennials have a whole different take on sexuality and I'm lagging behind, like Truman who is straight (he has lots of gay friends, which is apparently important for us to know) and he really just gets turned on by people watching him having sex, he doesn't care who he is doing what with as long as we're watching. So give him what he wants and come inside and watch him sit on Zale's bone.
Cocks are funny things with all their myriad shapes and sizes. Truman and Zale are fairly equally matched and their stats say they're each packing about 7.5 inches. Truman's has a prominent downward curve while Zale's has a slight upwards swoop. And while those downies are great for sliding down your throat, they can be difficult to get in your ass, particularly if they're a lot more severely curved that Truman's. But from where I'm sitting, Zale has a pretty perfect cock, a Goldilocks cock, if you will ... just right. It's a good length and girth to let you know you've got a dick in your bum, but not so big that you feel like your belly button is going to pop out.
Anyway, after checking each other out in the their side-by-side opening stroke, Truman and Zale take turns blowing each other with Truman going first. After gulping Zale's perfect dick, Truman stands on the bed and Zale gives him a swallow. Then, splayed across the bed with his hot butt hanging over the edge, Truman takes Zales tool in his ass. He sits on it too, but on his back is how he cums, and with Truman drilling him, Truman shoots ropes of cum all over his fist, but that first blast jumps up and smears Zale's abs. That was hot!