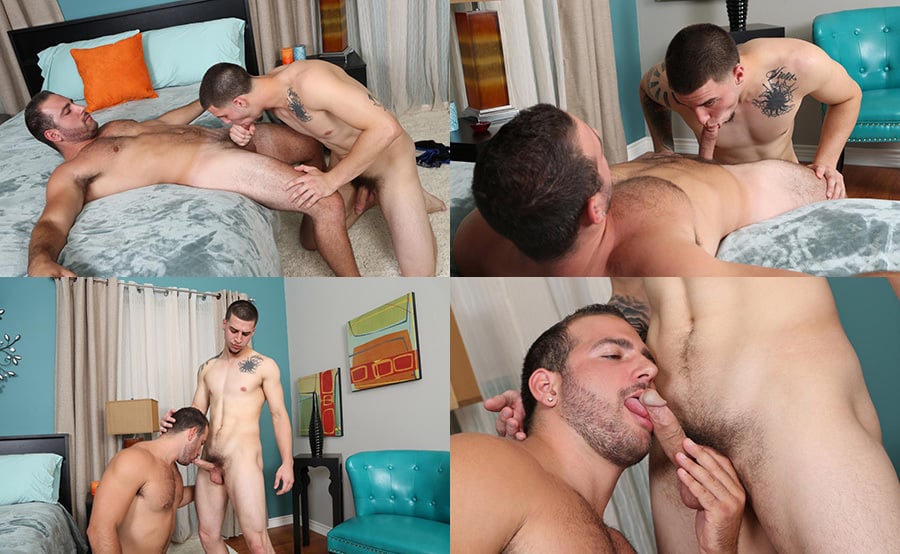 Site owner Bryan Ockert and has been trying to get Zale to bottom. Zale first filmed with Chaos Men back in January, and he returned in February for a blowjob, then he disappeared. When he surfaced again last month, he fucked two guys. Ockert says that Zale was never flat out opposed to bottoming, he just wanted to fully appreciate a guy's butt, you know, since he normally fucks girls. But when both of his bottoms said that getting fucked wasn't that bad, and that their orgasms were more intense, Zale's interest was piqued.
This is another hot scene for me because I like both tall lanky guys and shorter beefier ones. Zale is over six feet and weighs 180 pounds, whereas Armani is 5'9" and 160 pounds. But while I like both guys, and normally prefer hairy guys, I'm inexplicably drawn to Zale. His lean, smooth body turns me on, and his chin scruff and bushy pubes make up for the lack of hair on his chest. And he's got a nice cock. The two guys swap head and I enjoy watching Armani on his knees blowing Zale. But I like it even more when Zale crawls on top of the furry hunk in a 69 bone fest. His thick cock looks so delicious plunging Armani's mouth.
So Zale does indeed finally bottom. First doggy style, then lying on his back, Armani sticks his cock inside, then he grabs Zale's bare feet, one in each hand, and spreads his legs wide. It's a turn-on watching this beefier guy screwing Zale. But he gets his turn too, and in fact, he does most of the fucking in this scene. He pumps Armani's furry ass doggy style and blows his wad all over the stud's hairy hole. Then he slides back inside to continue unloading.