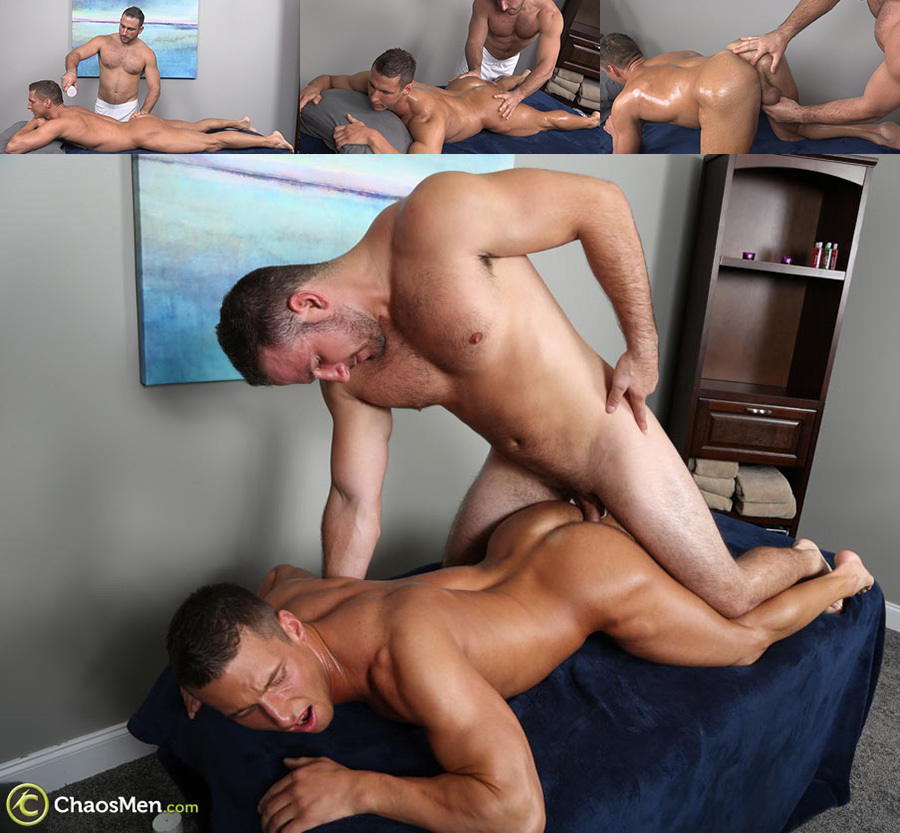 Sexy hunk Armani gives a whole new meaning to "happy ending massage." Normally, a guy would just sit back and get a handjob or get sucked off if they paid for the super duper deluxe package, but Chaos Men's Armani isn't giving Brannon that kind of massage. The blond does start off getting a rub down and Armani says softly, "Oh ... nice bod." He pulls Brannon to his knees and fingers the stud's ass while pulling on his stiff dick. Then Brannon rolls over and this massage really heats up.
After giving Brannon some head, Armani climbs on the table. He straddles Brannon and face fucks him, all the while holding his hands so he's totally at the masseur's mercy. Armani lies on top on Brannon and they 69; he lifts himself off a little so he can watch Brannon swallowing his cock.
Armani is a whisperer. "Oh yeah, I love your ass," he says softly, then seconds later, "It feels so good." Standing on the floor and holding Brannon's feet he whispers, "Your ass feels so good on my cock. I wanna see you fucking cum." It's so sexy as if they're fucking in the study and Mom and Dad are sleeping in the next room. He's clearly having a good time, but he's showing, not telling. It's so much hotter than listening to some guy yelling "fuck yeah" over and over.