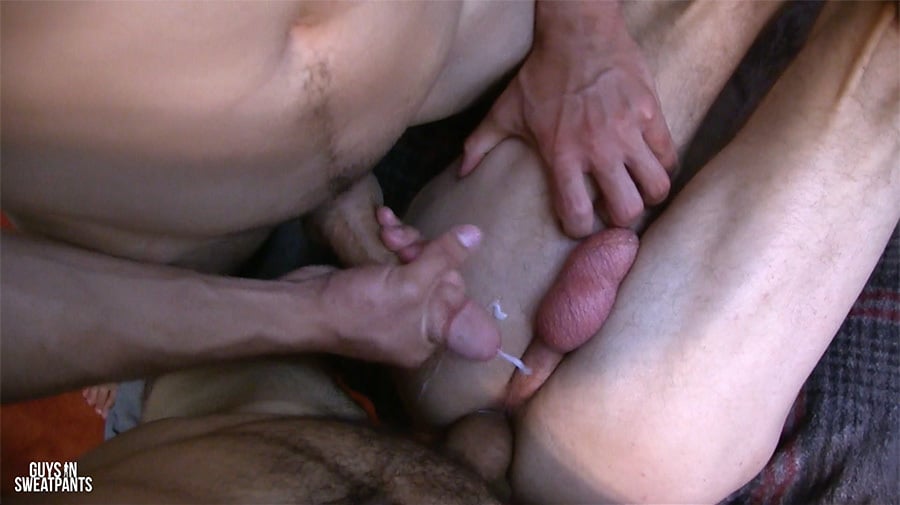 Porn producers live for these moments: a guy unloads all over a big bare cock sliding in and out of a bottom's ass. Gosh, it doesn't get much hotter than this, does it? Guys in Sweatpants' Austin Wilde invited Aussie Blake Lupo and bespectacled Colton Casey to film a homemade video. And talk about multitasking, not only did Austin have to service two bottoms (I love how that sounds as though Wilde were fucking under duress or something) but he also had to hold the camera for a good part of this threeway.
So first, can we talk about this creampie thing? I don't mean the actual event, but rather the misnamed term we use when a top blows his wad all over his bottom's hole. We've borrowed the term from the straight world where women actually have "pies." Men, on the other hand, have holes (women have holes too, but you know what I mean). I always thought that "glazed donut" was a much better term for anal cumshots, at least it doesn't put the imagery of a vagina in my head while I'm getting ready to watch a gay porno. I don't know why it never caught on.
You know how we say about threesomes that there's often an odd man out? Well, there's none of that here. While Austin is defintiely in service mode and taking care of two bottoms, Colton and Blake happily share and when one is getting drilled the other finds something else to do, i.e. planting his face in Austin's ass or sucking his fellow bottom's cock. It's passionate, it's hot, it's the kind of threeway we all wished we had last weekend -- or maybe we'll have this weekend. And then for the finale, Colton kneels beside Blake and cums all over Austin's dick, which is plunging the Aussie's hole. What a perfect ending to steamy threeway. Guys in Sweatpants sure is hitting them out of the park lately.
See more at Guys In Sweatpants