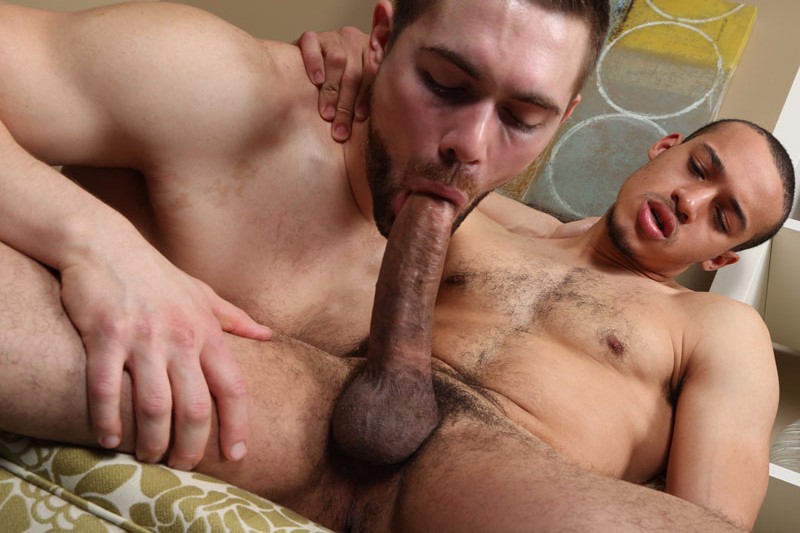 Get a $1.00 Trial at Chaos Men
Gerard is 25 years old, he's bisexual, and he's packing an 8.5-inch cock. He's married to a woman, but she's bi, too, so ... He did his first solo video for Chaos Men at the beginning of June and pounded his meat with a Fleshjack, now he's back to let resident cocksucker Griffin show him how well he can service a giant cock.
I'm initially unimpressed with Gerard. Don't get me wrong, he's good looking with a chiseled body and a big dick, but this is Pornland, guys like Gerard are a dime a dozen. Show me something different. Grab me by the balls and don't let go until I'm screaming for you to stop. And then it happened ...
While Griffin slobbers on Gerard's meat, the stud reaches around and slaps Griffin's bare ass. "You like sucking big dick?" Whack! Uh oh, here we go. Griffin deep throats Gerard's big dick, all the way down his throat. And Gerard holds his head and face fucks him hard and fast. Griffin makes choking and gobbling noises. Then Griffin lies his head over the edge of the bed and Gerard pounds his mouth some more. "Who's a dirty little boy," he moans. "Oh yeah, this dirty boy really likes sucking dick." I really hate it when people say this, but there's no other way of putting it, so ... "Now that's what I'm talking about."