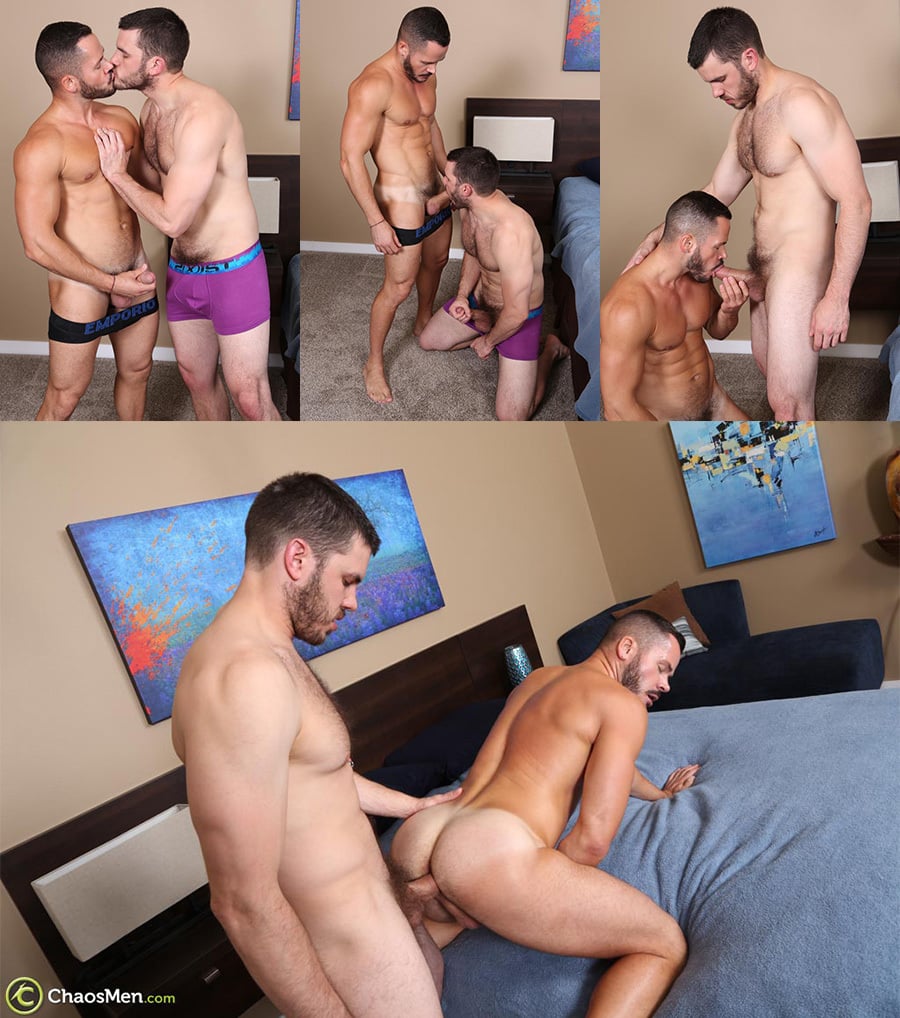 We don't very often see established porn stars on Chaos Men. While the site has lots of their own stars who appear time and again, seeing a guy like Valentin Petrov on the site is a rare thing. I wasn't sure if Petrov had barebacked before this scene, but it turns out that he has, not a lot, but this isn't his first time. And it seemed fitting that Chaos Men paired Petrov up with another big-dicked and well-known stud; with 59 videos under his belt, Vander is one of the stars of the site and a perfect match.
Chaos Men's site owner Bryan Ockert didn't actually explain why he decided to bring Petrov into the studio except to say that Petrov had contacted him. The guys on the site are nearly all amateurs, so it's odd for Ockert to film a professional performer. What's not unusual though is for guys on Chaos Men to move on to other sites and studios and make bigger names for themselves. Billy Santoro did a solo Chaos Men scene at the very beginning of his career and he filmed a second scene with Vander, then shortly after that, he scored an exclusive contract with MEN.com. And before filming his 18 videos with MEN.com, and a few more with Raging Stallion, Jaxton Wheeler was Valentino on Chaos Men and filmed nine scenes. There are others, but those are the two that stand out in my mind. If you want to show off your knowledge of porno trivia, feel free in the comments.
Vander tops and bottoms and he's got a big dick, so he's a good match for the mega-hung Valentin Petrov. From the opening moment, these two were pawing and kissing, then each took his turn on his knees blowing the other. And they get to the fucking pretty quickly. Petrov mounts the bed in a doggy style position and Vander eats his hole, then slides his stiff prick inside. Valentin tops Vander too and the guys seem to be grudge fucking ... you know, trying to outdo the other. In the end, Vander splashes Valentin's ass with cum, then they swap so Vander can get his ass spunked. Two glazed donuts is a perfect ending to this flip-flop.